Machu Picchu is an Inca Llaqta ie one built by the Inca Pachacutec City, the most important governor Inca period. It is a place that shows the sui generis of the art architecture and engineering developed by the Incas, you can see: streets, canals, temples, terraces, houses, bridges; all within a single line with Huayna Picchu mountain amidst a stunning landscape of jungle. It is located on the top of the mountain Machu Picchu, it is accessible by a properly marked and easily accessible route.
How to buy Ticket Machu Picchu 2016?
In 2015 visited Machu Picchu and Cusco, 2.6 million tourists from different parts of the world and is considered as a tourist attraction more visited the country; projecting an amount greater for 2016.
Machu Picchu is considered one of the new seven wonders of the world, next to the Chinese Wall, the Petra in Jordan, Christ Redeemer in Rio de Janeiro, Chichen Itza, the Colosseum and the Taj Mahal of India..
Have you encouraged, to visit Machu Picchu?
If you have decided to visit Machu Picchu in 2016, it is necessary to ensure your place by a reservation. We as Travel Agency, are making pre-reservation of the Ticket Machu Picchu for the 2016; tickets are subject to availability.
One of the questions that usually always make to Ticket Machu Picchu, is where and how buy tickets? to enter the Inca city of Machu Picchu and Huayna Picchu. Here we detail the most important things you need to know; and remind you that Ticket Machu Picchu seeks precision and provides accurate and updated information.
There are four Types of Ticket Machu Picchu:
Ticket Machu Picchu Only: Gives the option to visit only the Inca city of Machu Picchu.
Ticket Machu Picchu + Huayna Picchu: Besides visiting the Inca City include the income to climb the mountain Huayna Picchu in two groups:
Group 1: 07:00 hrs. – 08:00 hrs.
Group 2: 10:00 hrs. – 11:00 hrs.
Ticket Machu Picchu + Montain: Visit the Inca City with this ticket, you can hike to a mountain that is higher than the Huayna Picchu but more moderate access.
Ticket Machu Picchu + Museum: You can access to the Inca city of Machu Picchu and visit the Site Museum, located in the village of Aguas Calientes, where the train arrives from Cusco, it is 20 minutes from the city Inca.
How to buy Ticket Machu Picchu 2016?
Prior to guide you, how to buy your ticket to enter Machu Picchu, you need to consider three important facts:
The access to Machu Picchu is limited, it is arranged 2,500 people per day for the Ticket Machu Picchu Only, 200 people per each group Ticket Huayna Picchu, 400 people to the Ticket Machu Picchu Mountain
The second issue, which must take into account is that you can Buy a Ticket via the Internet; which has facilitated the passenger so you can buy their tickets well in advance (several months) so it is NOT recommended to purchase at the last minute, quite simply because you can lose your space and your chances are reduced even more, if you choose to buy your ticket already in Cusco.
The high season where more tourists are received, is from June to October. June is the month with the highest demand, because of the jubilee celebrations of the city of Cusco, on 24 June is staged the Festival of the Sun "Inti Raymi".
Buy Ticket Machu Picchu
You can buy your Ticket Machu Picchu in its 4 forms, through our Web site. That can be done in a simple, fast and safe, just follow these steps: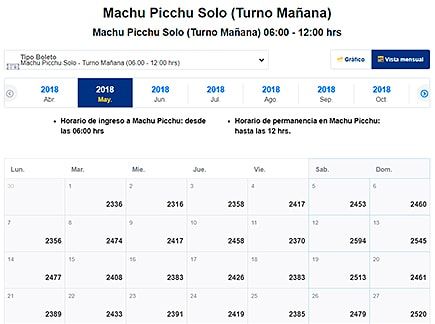 Choose the type Ticket Machu Picchu.
We remind you, that there are 4 types of Ticket Machu Picchu:
Proceed with the Reserve.
Click the book now button and complete the form. The required data are important in order to make the purchase of your ticket.
Note: If the ticket that you want to buy is:
For student, you should send a COPY OF YOUR ISIC CARD, so you pay only 50% of the input.
For children (8-17 years), send a COPY OF IDENTITY CARD, passport, identity card, as appropriate.
For adult, please send a COPY OF YOUR PASSPORT.
Without these documents, it is not possible make the reservation.

Make the Payment
When make a reservation of a Ticket Machu Picchu, is generated a receipt of payment Paypal, which is sent to email, with which he made the reservation.
For more information about the trip to Machu Picchu, visit our tips section.
The ticket prices vary according to the type of ticket, nationality and age of the visitor; that is, if foreign / national, adult / student / child. For more details on our prices please visit our section Prices Ticket Machu Picchu.
Data requirements to Book Ticket Machu Picchu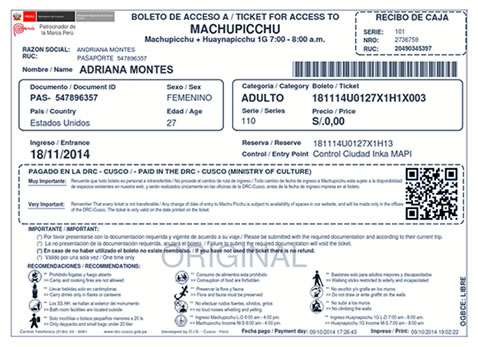 To make a booking you must complete the booking form or send an email with the following information:
Number of passengers.
Full names (As displayed on your passport).
Passport number or identify card.
Nationality.
Date of birth.
Any other important information you consider we have to know.
Note: If you have the ISIC card (International Student Identity Card), send a scanned copy of your ISIC Card. For child send a copy of your ID or passport as required.
In case you have any doubt or an additional question, feel free to write us or communicate directly via our online chat, we are always at your service to answer any question you can have.
Important Note: Take into account Suspension of Entrance to the Mountains Machu Picchu in April 2016
The leadership of the National Archaeological Park of Machu Picchu announced the suspension of income of visitors to the Mountains Huayna Picchu and Machu Picchu in April 2016. This measure was adopted to facilitate the work of system maintenance, which is carried out in stairs, platforms and retaining walls. Which are hampered by the displacement of thousands of daily visitors.
We recommend, consider the closing time, to take the necessary measures, since it will suspend the sale of the following types of ticket income, on the dates indicated below:
Ticket Machu Picchu + Huayna Picchu, suspensión; del 01 al 15 de Abril del 2016.
Ticket Machu Picchu + Mountain, suspensión; del 16 al 30 de Abril del 2016.
We also remind you that despite this close, the Inca City of Machu Picchu is still available on their other two options, such as: Ticket Machu Picchu Only and Ticket Machu Picchu + Museum.
By Ticket Machu Picchu – Last Update, 02-01-2016
Booking your Machu Picchu Ticket has never been so easy
Check availability in real time - Book quickly and easily - Pay safely - Receive your ticket in 24 hours