It is the museum dedicated to Machu Picchu, you can walk about 30 minutes from Machu Picchu village (Aguas Calientes), visit it before visiting the Inca city of Machu Picchu, will give you a different perspective of Machu Picchu and its history.
Where is it located?
It is located at km 112 "Puente Ruinas" (the old train station), approximately 1.7 km from the village of Machu Picchu (Aguas Calientes), at the foot of Machu Picchu mountain, reached by crossing the river bridge Urubamba in the direction of Machu Picchu.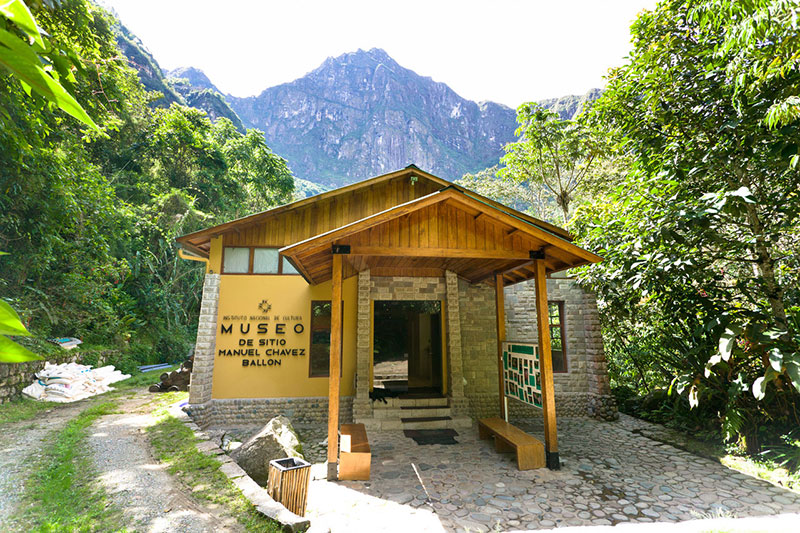 The Manuel Chávez Ballón Site Museum – Machu Picchu
What are the opening hours?
The museum is open from Monday to Saturday from 10 am to 4 pm.
The Manuel Chávez Ballón Site Museum
It works in a building donated by Anita Fernandini de Naranjo, for this purpose; It was designed in the 60s, but was completed in the 70s. The museum began to function, before its construction was completed, and as the museums of that place were merely contemplative; They highlight objects of ceramics, stone, metal, skeletons, and replicas of tools of the Inca and pre-Inca times; Then graphic and interactive samples were added to its exhibition, essential to satisfy the information needs of local and foreign visitors. The museum is made up of closed rooms, to create a visual connection and ensure the dynamics of the exhibition. In addition, the use of geometric and trapezoidal forms, which bring to memory the Inca architecture.
Collection of Museum objects
Archaeological investigations carried out after the discovery of the Inca City resulted in a collection of 250 Inca artifacts, including stone articles, metals, ceramics, bones and others found in Machu Picchu, the Inca Trail and the surrounding area.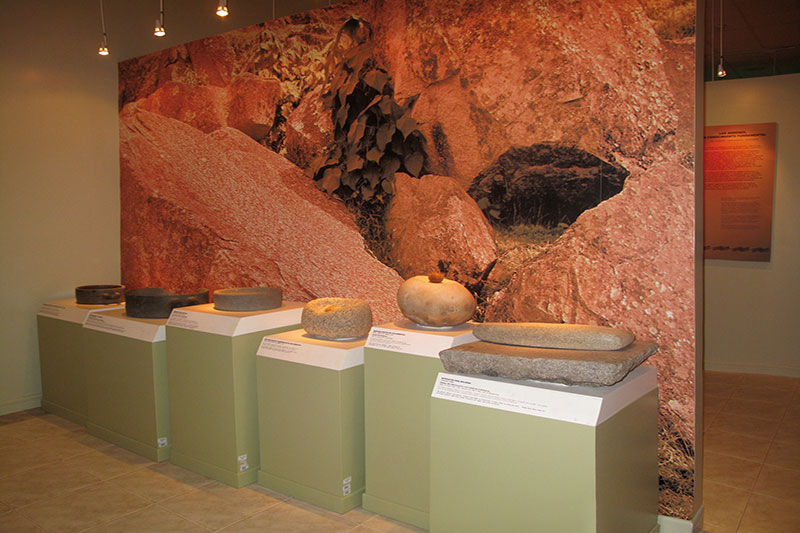 Objects from the Manuel Chavez Ballon Museum – Machu Picchu
The exhibition of objects will allow you to see lithic artifacts, used in the construction of the Inca city; Nails, fasteners, rings used to bind the thatched roof beams, "percussors" made of different types of rocks (granite, andesite, basalt), boulders, among others. But after seeing these tools, it will be difficult to believe that the tools made it possible for the stones to fit perfectly with each other, besides incredible shapes, carved and carved into rock.
The collection of objects also contains agricultural tools, quats (plows), axes, knives, hunting tools, military use and others for ceremonial purposes, such as water containers, mini sculptures, "illas" and ornaments. You will also see discs of different diameters, which were used as tapas, fusayolas, geometric forms, mini zoomorphic sculptures, which were to be used in ritual ceremonies.
Inca Metallurgy
The museum also exposes the Inca's work with metals and the knowledge that this civilization, of metal alloy, using air currents for the performance of its furnaces or Wayras, to alloy metals like copper and tin. You can see collections of pins, clubs, ornaments, tweezers, mirrors, silver, copper and bronze knives. The bronze cane is one of the most important finds, as well as a metal ornament in the form of "qantu" (Peru's national flower), since the materials with which it was made suggest different areas of manufacture. One of the first techniques used by the Inca society was laminated metal, for which they had to use huge heat sources to achieve a malleability point that would allow for a thinner sheet. This technique allowed them to manufacture bracelets,
By Ticket Machu Picchu – Last updated, March 27, 2019