Peru is a fascinating place, and no trip through South America would be complete, without the ancient Inca city of Machu Picchu. Everything begins in Cusco and its Inca heritage merged with Spanish culture and European influence. Machu Picchu was hidden under tons of vegetation for 500 years, until it was discovered by settlers of the area; but it would be Hiram Bingham who would make it known to the world in 1911.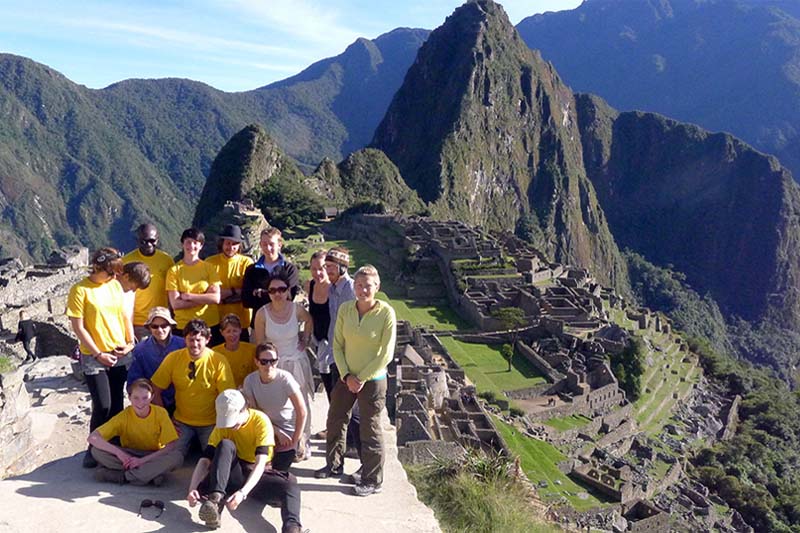 Students enjoying Machu Picchu
Important: The STUDENT ID CARD (University ID Card) is the only valid document to obtain the student discount on the price of the Machu Picchu Tickets. You should send a digital copy or picture of the card. No study certificates or any other document other than the valid university card will be accepted. Please note that to proceed with the reservation, the validity date of your card must be kept until at least the day of your visit to Machu Picchu.
It is very easy to get tickets to Machu Picchu for students, you can do it with the university id card to which it belongs. Hundreds of students from around the world visit Machu Picchu every day; is an authentic and incomparable cultural exchange.
How to buy Machu Picchu Tickets for students?
Our website is the fastest and easiest platform to get Machu Picchu tickets for students. Just send us the scanned copy, or a photograph (clear) of your university id card. In addition to the university id card, we will need a copy of your passport. The passport is used to book the ticket Machu Picchu, and the university id card to obtain the discount before the Ministry of Culture.
Important
The university id card with which you book the ticket Machu Picchu will be with which you must enter the Inca city of Machu Picchu so make sure it is valid until after your visit to Machu Picchu. Also remember that after buying the ticket Machu Picchu there is no option to return so you must be completely sure of the information you enter in the booking form, "the date", personal data and ticket type. Any mistake could prevent you from entering Machu Picchu.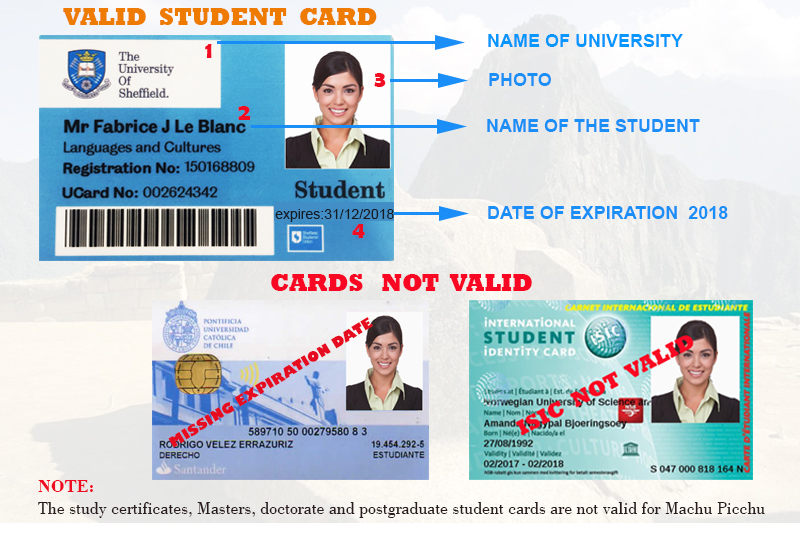 University ID Card valid to reserve the ticket Machu Picchu
Steps to Buying Machu Picchu Tickets for Students
Choose, "very well", what days you want to be in Machu Picchu and the type of ticket.
Check the tickets available for those days.
Book your Machu Picchu tickets by filling out the booking form.
Send us the "scanned copy of your" university id card "along with the copy of your passport or identity document to info@boletomachupicchu.com
Pay for the Machu Picchu tickets through our multiple payment methods. This must be done within 2 hours after booking.
Print the tickets. Although they are electronic tickets, you will need the printed Machu Picchu ticket, your original Passport and the university id card with which you made the ticket reservation to enter Machu Picchu.
Important information for booking Machu Picchu ticket for students
Machu Picchu tickets must be booked at least a month in advance, this will give you enough time to book everything else, train tickets, hotel guides and other tours in Cusco and Peru. However, the ascent to Huayna Picchu Mountain, with the ticket Machu Picchu + Huayna Picchu, is one of the most amazing experiences in Machu Picchu and must be booked at least 3 months before.
The experience in Machu Picchu
Beyond being one of the 7 wonders of the world, one of the best destinations on the planet and one of the most amazing natural environments that exist; Machu Picchu is magical, mystical, spiritual, energetic, especially mysterious; is the heritage of cultures that created places like the Nazca, Sacsayhuaman and Tiahuanaco lines, and one of the most rugged and beautiful natural environments in South America. Imagine the mixture of knowledge they accumulated, which they captured in cities like Machu Picchu, whose history was "lost in time".
In addition to the Inca city, there are landscapes, food, adventure and meet many people from all over the world. You can come with your highest expectations, Machu Picchu will cover them all. If you wish we can help you throughout the organization of your trip to Machu Picchu, just contact us through the following email, info@boletomachupicchu.com.
Documents needed to access student discount
For students of institutes and universities of all nationalities, we will need the copy of your university id card, in addition to your Passport or ID, as appropriate. Valid and valid.

For Peruvian students, we will need your University ID Card and DNI.

Students aged 8 to 17 will need a copy of their Passport.

Children under 8 years old do not pay, but will need a passport or identity card to enter Machu Picchu.
Advice from people who have been there
Machu Picchu

By: Paula dos Santos
"Machu Picchu indescribably beautiful"
"We went to Machu Picchu in a group of 5, everything on the trip is amazing, Cusco, the Sacred Valley, Aguas Calientes, the train, the mountains, but Machu Picchu is indescribable, magical, beautiful. Book train tickets in advance."
By Ticket Machu Picchu – Last Update, 10-03-2017
Booking your Machu Picchu Ticket has never been so easy
Check availability in real time - Book quickly and easily - Pay safely - Receive your ticket in 24 hours