How to book Machu Picchu Tickets at the last minute?
Although it is difficult, it is possible, we do it all the time during the high season. Book with us will avoid you to deal with the problems caused by buying tickets Machu Picchu on the official website. We have experience with last minute reservations and it is possible that we are your best option to make the purchase of the last minute Machu Picchu ticket, please contact us; we can deliver your Machu Picchu ticket within 24 hours, ensuring that tickets will be in your inbox, available for printing.
Important
Please note that we guarantee the delivery of the ticket in 24 hours; however, tickets purchased after 4:30 pm on Friday will not actually be processed until after the weekend. So you will receive your tickets on Monday morning.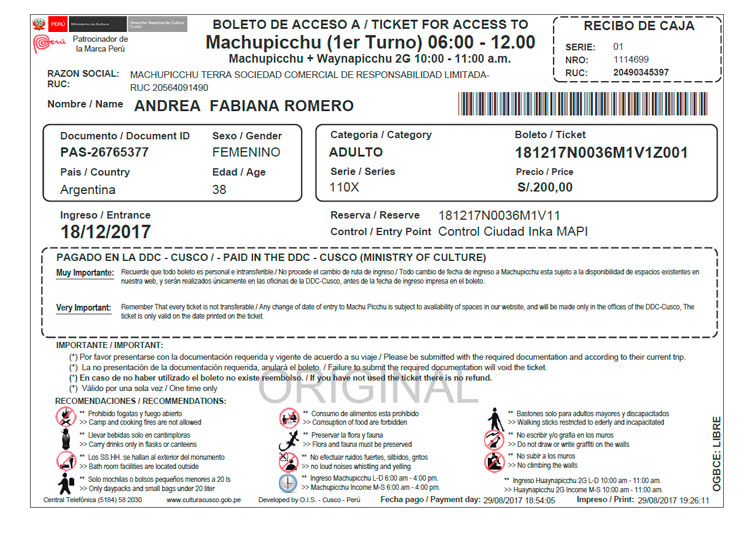 Entrance ticket to Machupicchu
Trip to Machu Picchu in the last hour
The organization of last minute vacations to Machu Picchu during the high season, is a horrible ride against time. The adrenaline goes up with rejected emails, very limited train schedules, crowded hotels, plus having to coordinate everything with a precision that would scare an experienced military. The first step is to arrive in Cusco, once here, the 5 hour trip to Machu Picchu starts with 1 or 2 hours by bus to PeruRail station in the Sacred Valley, an hour and a half to Aguas Calientes and then a 30 minute bus ride to the main entrance. Each stage of the trip must be synchronized with the others; but before that, you must buy the Machu Picchu Tickets, since everything will depend on when you want (or can) enter the Inca City.
Maybe you woke up today and said "I want to go to Machu Picchu!".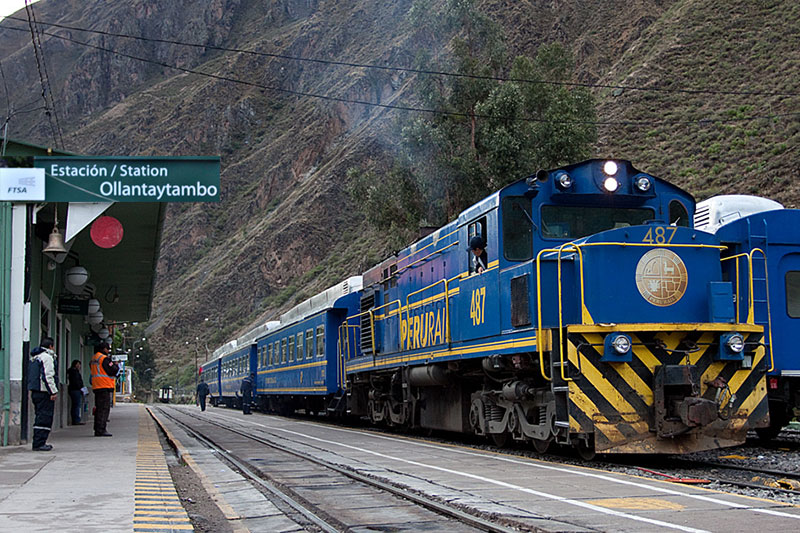 Train Station to Machu Picchu in Ollantaytambo
This is what you need to know
Your passport must be valid at least until you leave Peru. Although you can book international flights without a passport. You can not do this for flights in Peru. In addition the Passport is the only valid document to reserve the ticket Machu Picchu.
The minimum time to book the ticket Machu Picchu + Huayna Picchu is 4 months and you must reserve it 6 months before, if you want to choose the time of entry, and have organized trip to this mountain in Machu Picchu.
Fill out the reservation form and send a copy of the passport (valid) of each person in your group, we will send you all the details to make the payment by the method that you choose; you have two hours to cancel the ticket after the reservation, otherwise you will lose it.
If you still do not know how, visit How to buy the ticket Machu Picchu?. As soon as you have confirmed the purchase of your tickets, start booking and buy train tickets, hotels, bus tickets and guide service (in that order) ; everything will be more complicated in high season.
In almost all cases the prices of most services in high season, increase between 30 and 100%, very different from the rates announced and quoted only weeks before. This gives you little flexibility to mix and match hotels, train schedules, and other activities.
Good news. We are not magicians, but you can count on us to do our best! We will put all our effort into making you have the journey of your life.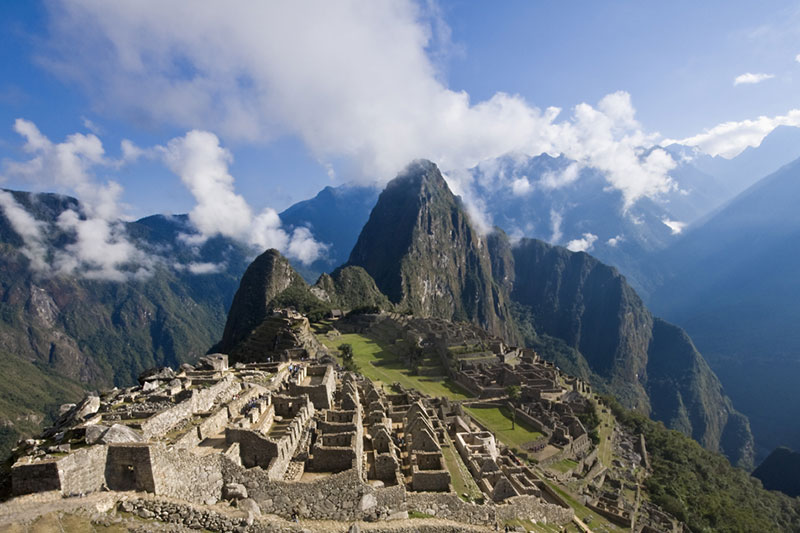 Machu Picchu – Wonder of the World
Do you have questions?
Click here to see the means of contact, or send an email to our staff in Cusco, through info@boletomachupicchu.com.
We recommend you plan your trip to Machu Picchu in advance
Our offices are in Cusco, Peru, and we are the fastest and safest way to purchase your Machu Picchu Tickets. But if you wish, we can help you organize your entire travel itinerary.
Advice from people who have been there
Machu Picchu

By: Luhana G.
"You have to book tickets in advance"
"Going to Machu Picchu was amazing, the place is beautiful, the only bad thing is that we could not climb to Huayna Picchu because the tickets sold out 4 months before, but we managed to get tickets to Machu Picchu. There are a lot of people who attend every day, it's crazy. To climb the mountain are rows, is very tired and you have to walk between many people, but none of that matters at the top. Simply INDESCRIPTIBLE !!."
By Ticket Machu Picchu – Last Update, 09-26-2017
{"iden":"AJuQzo","titulo":"Boton Reservar ver Disponibilidad","slug":"boton-reservar-ver-disponibilidad","contenido":"\u003Cp\u003E \u003C\/p\u003E\n\u003Ch2 class=\u0022titulo-wrapper-bttn\u0022\u003EBooking your Machu Picchu Ticket has never been so easy\u003C\/h2\u003E\n\u003Cp class=\u0022subtitulo-wrapper-bttn\u0022\u003ECheck availability in real time - Book quickly and easily - Pay safely - Receive your ticket in 24 hours\u003C\/p\u003E\n\u003Cdiv class=\u0022wrapper-bttn\u0022\u003E\n\t\u003Ca href=\u0022\/ticket-machu-picchu-book-now\/\u0022 class=\u0022bttn bttn-reserva\u0022 title=\u0022Ticket Machu Picchu Book Now\u0022 role=\u0022button\u0022\u003E\n\t\t\u003Cspan\u003EBook Now!\u003C\/span\u003E\n\t\u003C\/a\u003E\n\t\u003Ca href=\u0022\/machu-picchu-ticket-availability-online\/\u0022 class=\u0022bttn bttn-dispo\u0022 title=\u0022Availability Ticket Machu Picchu\u0022 role=\u0022button\u0022\u003E\n\t\t\u003Cspan\u003EAvailability\u003C\/span\u003E\n\t\u003C\/a\u003E\n\u003C\/div\u003E\n\u003Cp\u003E \u003C\/p\u003E","ajax":"1"}