Whether you arrive in Cusco for a previous visit to Machu Picchu or to explore the city that was the capital of the Inca empire; In this guide you will find everything you need to know for your visit How to get there? What to see? When to go?. Cusco is the birthplace and capital of the Inca Civilization, the largest empire in the Western Hemisphere and the most powerful city on the continent; Can be compared to cities like Rome, Athens and Cairo. The chronicles of the conquest describe Cusco as a city of lavish residences, extravagant palaces and huge temples flooded with gold. In the sixteenth century the history of Cusco would change forever, after it was invaded and almost destroyed by the Spanish invaders. Nowadays, people from all over the world, from all cultures, religions and socioeconomic levels are mixed in the Cusco square. Cusco is one of the most cosmopolitan and interesting cities in South America and is considered a cultural heritage of humanity.
How to get to Cusco?
When is the best time to go to Cusco?
What to do in Cusco?
How to get around Cusco?
Where to eat in Cusco?
Where to sleep in Cusco?
Nightlife in Cusco
Bars in Cusco
Nightclubs in Cusco
How to get to Cusco?
Most people will start their trip to Machu Picchu – Peru, in Lima; Known as the city of kings, is the place where it will arrive if it is coming from the other side of the world; Once here, there are two ways to get to Cusco.
By plane

The International Airport Alejandro Velasco Astete – (CUZ) is the airport of Cusco; But only receives international flights from Bolivia, the rest of international flights arrive in the city of Lima. There are flights from Lima to Cusco every day and at different times; Latam, Avianca, Star Peru and Peruvian Airlines are the main companies that operate in Cusco airport. Most hotels are 10 minutes from the airport, a taxi will cost between 10 and 20 soles (depending on your negotiation skills). For more information about how to get to Cusco, go here.

By bus

A huge number of bus companies operate the route Lima – Cusco; However the rugged geography of Peru, makes the trip by bus is quite tedious and takes about 20 hours. The companies we recommend are Cruz del Sur, Tepsa, Oltursa and Ormeño; From Cusco there are other companies that operate the route Cusco – Puno; Service destined for the people that after Cusco, continue towards Lake Titicaca; The land terminal is 10 minutes from the Historic Center of Cusco. TOP ▲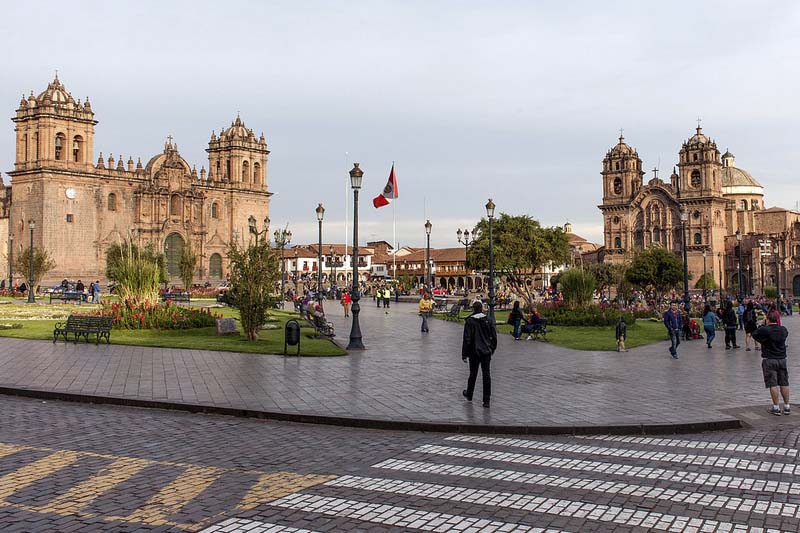 Cusco, historical capital of Peru
When is the best time to go to Cusco?
When to go to Cusco? Is one of the best questions before the trip. Although temperatures are around 18 degrees throughout the year, the best time to go to Cusco is from April to September (dry season); The rains are less during this season, but also coincides with the high season of tourism, so you will have a lot of company of people from all over the world, and as you should know to higher demand, prices rise. But if you do not mind getting a little wet and you want to escape all this turmoil; Besides getting hotels, guides and other tours at low prices, can come between November and April, it is the rainy season, but there are less people and greener landscapes.
December-April

If you do not have problems with getting a bit wet, visiting Cusco in "summer" will allow you to get hotels at low prices and visit Machu Picchu as far as possible. In February you will not be able to enter Machu Picchu by the Inca Trail, as it closes for maintenance; In addition, the intense rains make it very difficult to cross the muddy Inca trails. But on the other hand, the rains do not stop the activity in Cusco, nor the people who want to enter Machu Picchu, which becomes especially green during these months; But coming in rainy season has other advantages.

Events

Party of Ollantaytambo (6 of January)
Party of San Sebastián (January 20)
The Virgin of the Candelaria (February)
Carnival (February)
The Lord of the Tremors (March-April)

May August

Cusco is beautiful in winter, the climate is dry and sunny, the streets are flooded with outdoor festivals; This time coincides with the US vacation. And Europe, so you can meet "many people" from all over the world. To come at this time, the tickets Machu Picchu, train tickets, hotels and even guides must be booked at least 3 months in advance, especially if you plan to come between June and August. Your best chance of missing something out of the crowd comes at the beginning of winter, in May. That said, do not expect to get one of the 400 tickets Machu Picchu + Huayna Picchu, without reserving it 6 months earlier.

Events

Cruz Velacuy (May 2)
Lord of Torrechayoc (May)
Qoylllur Rit'i (June)
Corpus Christi (June 11)
Inti Raymi – Feast of the Sun (24 June)
Pachamama Raymi (Mother Earth Day) (August 1)

September November

This season combines the best of both seasons, reduced hotel rates, fewer people and warm days with temperatures around 20 ° C. It is spring and sunny days are mixed with light and intermittent rains, be sure to book your trip with some time in advance, especially your entry to Machu Picchu. TOP ▲
What to do in Cusco?
With temples, palaces, ancient Inca cities and access to the Lost City of the Incas, Cusco delights its visitors. First, you must insure your entry to Machu Picchu. If you are coming by train you will have to reserve Machu Picchu tickets and train tickets, at least 3 months in advance; But if you want the Tickets Machu Picchu + Huayna Picchu, or enter by the Inca Trail , you will have to reserve 6 months before.
Before or after your trip to Machu Picchu you can visit the Plaza de armas del Cusco; Visit the Cathedral, very close to the Qoricancha ; Then you can raise your experience to another level, visiting the fortress of Sacsayhuaman , one of the most mysterious structures on the planet; But there is more to do in Cusco.
Machu Picchu
Main Square
Cathedral
The neighborhood of San Blas
The Cusco Planetarium
Museum of Pre-Columbian Art
Machu Picchu Museum of the Concha House
To visit some places in Cusco, you must know how to buy the Cusco Tourist Ticket? TOP ▲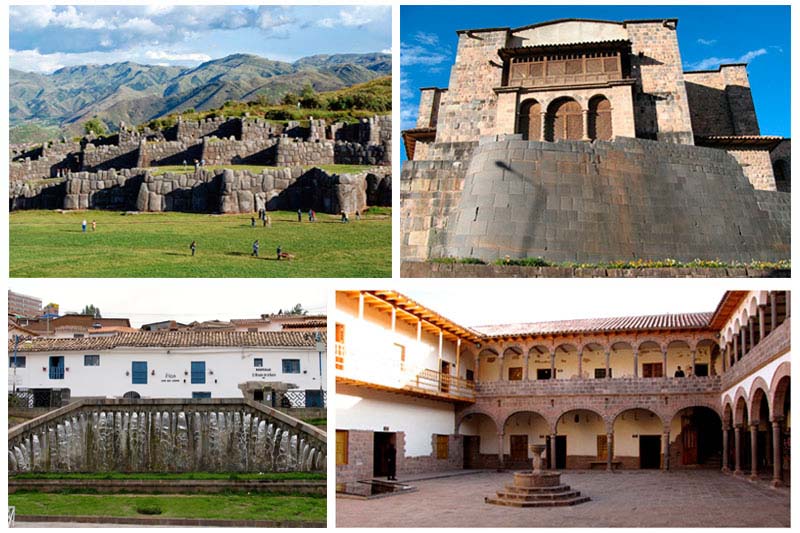 Attractions of Cusco
How to get around Cusco?
You will find public transportation from 6 am until around 9 pm; This will cost between S / 0.70 cents and S / 2.50 soles (0.20 to 0.85 US $). If you are going to board a "combi" (minibus) be sure to carry cash in small coins. You will not be able to use foreign currency nor will you accept to pay with money of high denominations.
Taxis are common throughout the city. If you are going to board a taxi, get one that has the number that identifies the company on the roof; The most popular company in Cusco is "Alo Cusco" (084-222222). If you take an independent taxi, be sure to set the rate before boarding, you will avoid many problems. Taking a taxi inside the city will cost between S / 5 and 10 soles. TOP ▲
If hiking is your thing , know that the central part of Cusco is safe to walk, even in the late hours of the night, but avoid the remote areas after 8 pm.
The best way to enjoy the attractions of the city of Cusco and Machu Picchu is in an organized tour; If you want more information, please contact us at info@boletomachupicchu.com.
Where to eat in Cusco?
Cusco has "many", many tourist restaurants, you will find Peruvian and international food for all tastes and prices; You can choose from dozens of tourist restaurants very close to the Plaza de Armas del Cusco. And if you did not know, Peru is considered the best gastronomic destination in the world, so enjoy the food.
Where to sleep in Cusco?
If there is something that abounds in Cusco are hotels, of all categories "shapes and sizes"; While prices can vary widely, most of them offer quality service. You will find numerous hotels in the historic center of Cusco and throughout the city. In spite of coming in high season, we recommend making your reservations in advance, this way you will ensure your stay and avoid high prices; This is highly recommended, since prices in the high season usually rise by between 30 and 100%. You can save yourself the trouble of booking hotels, tickets and transportation; Booking an organized tour. TOP ▲
Nightlife in Cusco
Cusco is quite famous in Peru and South America for its active nightlife, the huge amount of tourists makes the city have parties almost every night of the week. Near the Plaza de Armas of Cusco you will find many tourist bars and discos; The environments of these places vary quite, having several options for all ages.
Bars in Cusco
If you need a cold beer (try the Cusqueña beer) after an arduous day of excursion, in Cusco there will always be an open place. If you want your experience in Peru to be complete, try the "pisco sour", or go try according to the cocktail menu, Cusco nights has something for everyone, lots of places to drink and taxis at all hours.
Nightclubs in Cusco
The nightclubs in Cusco open from Monday to Saturday from the afternoon until the early hours; There are for all ages (+18) and tastes. You will find many discotheques in the Plaza de Armas and the surrounding areas, most of them located on Calle Tecsecocha. We are sure that the staff of your hotel, can give you good recommendations on places to enjoy the Cusco nights. TOP ▲
To know more about Cusco and Machu Picchu you can visit our tips section.
By Ticket Machu Picchu – Last Update, 08-26-2017