20 Images that will make you want to be in Machu Picchu
Machu Picchu is on top of the bucket lists of most people around the world. Wisely so, because it is simply spectacular. It was built around the 15th century, abandoned during the invasion of the empire by the Spanish, who never discovered it – otherwise we would talk about a city fused with Spanish constructions and not an Inca city – and made known to the world by Hiram Bingham in 1911. It is currently considered one of the most spectacular places in the world, wonder of the world and world heritage, as noted by UNESCO in 1983 .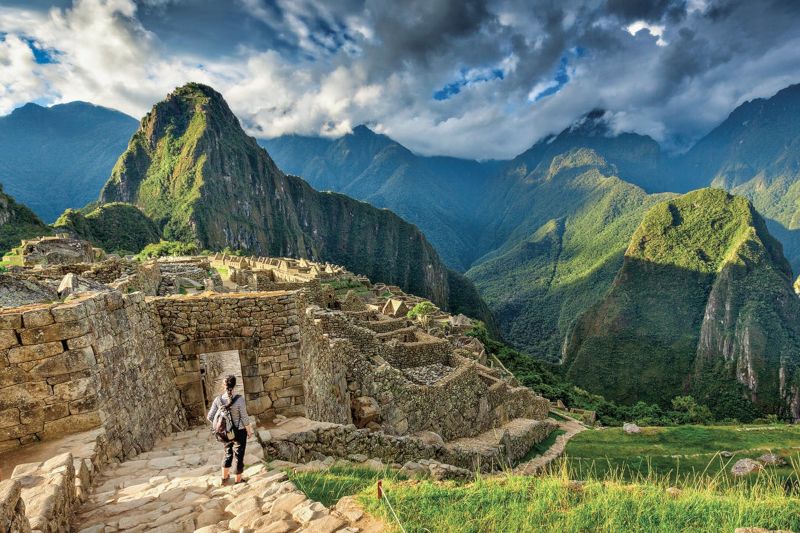 Machu Pichu is cause for joy and amazement of all the people who visit it daily
Those who were lucky enough to walk the streets of the ancient Inca city, can not explain the mystery surrounding each of the buildings of Machu Picchu . The American historian Hiram Bingham was guided to the ruins by a child belonging to one of the local families in 1911. At that time the ruins were barely visible and were covered by 400 years of vegetation. His team had to return in 1912 and 1915 to begin the arduous task of cleaning the dense jungle foliage above and around the citadel.
These images will make you want to visit Machu Picchu at least once in your life
Surely you have seen hundreds of the millions of photographs that exist of the Inca city on the internet, before visiting Machu Picchu. Especially Instagram photos, which are far from being "instant photographs", which are exposed according to the wishes of the traveler, to dozens of filters and overexposure. So there will be no better photo than the one you can get for yourself in Machu Picchu ; however, for this you will need to book the Machu Picchu tickets in advance.
Here are 20 images that will show you why Machu Picchu is one of the main destinations in the world.
Welcome to the Inca Trail , one of the most famous excursions in the world

Entrance to the Inca Trail

Before or after Machu Picchu enjoy the surroundings ; Being before, the people of the Sacred Valley will give you a truly fascinating vision of what you will see in the Inca city.

Inca Trail Route

It does not matter if it is the 4-day or 2-day Inca trail, it is one of the best experiences you will have in your life , be prepared for intense climbs, bad altitude potential, cold nights, as well as incredible and rewarding views.

Incredible landscapes that can be seen when traveling the Inca Trail

The llamas of Machu Picchu can give you many of the best photographs you can get in the Inca city.

Tourist taking a selfie with a llama in Machu Picchu

Machu Picchu is located between the Andes and the Amazon jungle, and the landscapes are really impressive.

Interior of the Inca city of Machu Picchu

If you are lucky, you can see a double rainbow in Machu Picchu.

Rainbow in Machu Picchu

It can take some memories along the way.

Enjoy your tour in Machu Picchu

If you don't like the idea of walking for 4 days on the Inca trail, the Orient-Express Hiram Bingham luxury train can also take you to Machu Picchu.

Luxurious Hiram Bingham train heading to Machu Picchu

The train route to Machu Picchu , is considered one of the most amazing short routes in the world, enjoy it. It is much more comfortable than walking, that's for sure.

View of the train to Machu Picchu

No matter how you get there, you'll never forget that first glimpse of the lost city of the Incas.

View of Machu Picchu

Some believe that these impressive buildings were built as a real property for the Inca emperor Pachacutec and his nobles. Others, it was a sacred place; and although the true purpose of Machu Picchu is not known, what is true is that it is impressive.

Machu Picchu photographed from the top of the Huayna Picchu mountain

It is possible that it was an astronomical observatory – but the truth is that the city was completely designed based on the sun.

Visitor resting on the stairs of the Huayna Picchu mountain

No one knows why he was abandoned. Historians agree that it must have been built when the Inca Empire peaked, which it was in the 15th and 16th centuries, before the empire was invaded by the Spanish around the 1530s. Apparently, More than 1,000 people lived here at some time.

Group of tourists with the background of the Inca city of Machu Picchu

There are people who do not imagine the idea of knowing Machu Picchu and not ascending the amazing mountain Huayna Picchu , this will make you understand why.

Death stairs in the ascent to the mountain Huayna Picchu

The jewel of the Inca empire is more than 2,400 meters above sea level and extends for more than 8 kilometers.

Beautiful view of the Inca citadel of Machu Picchu

It contains more than 150 buildings; baths, tombs, temples, residences, fountains, and more than 3,000 steps that connect their different sites and levels.

Constructions in Machu Picchu

There is a mystery behind Machu Picchu, and it is that the stones with which its walls were built, rather than carved with chisels and percussion tools, seem to have been molded as if they had been clay at some time; In addition, they are perfectly fitted, without the need of mortar or payment of any kind.

Temple of the three windows in Machu Picchu

Another of the greatest mysteries of Machu Picchu, is the incredible energy that can be felt in the place, and the Intihuatana is one of the places where you can feel this energy with more force. Put the palms of your hands a few centimeters, but do not touch the stone, it is prohibited.

Feeling the energy of Intihuatana in Machu Picchu

The incredible features of Machu Picchu made it a UNESCO World Heritage Site in 1983, and one of the "Seven Wonders of the World" in 2007.

Tourist resting in Machu Picchu

Machu Picchu, the sacred city of the Incas, is the reason why the whole place is known as the Sacred Valley of the Incas .

Machu Picchu the incredible Inca city
Advice from people who have been there
Machu Picchu

By: Katty B
"Unforgettable"
"Machu Picchu is the place; you have to visit sometime in life, its history and archaeological constructions are wonderful, you can breathe an atmosphere of energy, tranquility and beauty. "
By Ticket Machu Picchu – Last updated, September 13, 2023