Many people decide to walk the Inca Trail for 4 days, to enter the Inca City of Machu Picchu by the Gate of the Sun (Intipunku); However, we know that not all people enjoy outdoor walks. The other way is to get to Machu Picchu by train through the Sacred Valley of the Incas. Know that to reserve train tickets, you must first know exactly the dates you will enter Machu Picchu. If you do not have the Machu Picchu tickets yet, check availability.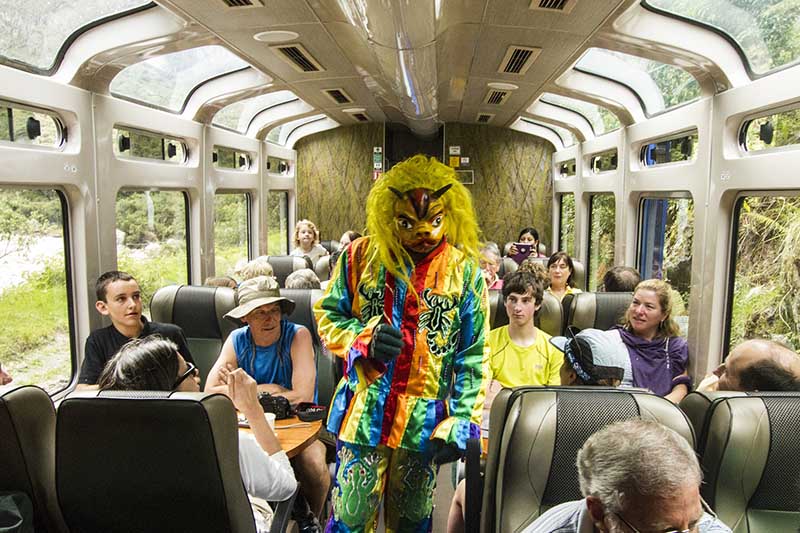 Train to Machu Picchu
Where do trains leave for Machu Picchu?
The trains to Machu Picchu leave from the stations in the cities of Ollantaytambo and Poroy, with different services from 5:00 am. In most cases, trains depart from the City of Ollantaytambo; Do not know how to get to this city, check How to get to Ollantaytambo? The trip lasts approximately one and a half hours if you depart from Ollantaytambo (3 hours from Poroy), your destination is at kilometer 110 of the railway, in the town of Aguas Calientes (Machu Picchu village). Once here, you can board the buses to Machu Picchu, or walk the 8 kilometers to the entrance gate to Machu Picchu.
How is the train trip to Machu Picchu?
The train crosses the beautiful and green Sacred Valley of the Incas, along the banks of the Urubamba River, to the village of Aguas Calientes (Machu Picchu village). You will travel with a large group of people from all over the world, excited to be so close to Machu Picchu. The impressive geography of the route will leave you stupefied and in some cases disoriented, especially if it comes from places near the sea.
Trains to Machu Picchu
There are two companies authorized to travel through the Sacred Valley of the Incas to Aguas Calientes (Machu Picchu village), the city below the Inca city of Machu Picchu.
– Peru Rail
Peru Rail is the oldest company, authorized to operate the route to Machu Picchu; Has different services:
Vistadome: It is a train with wide wagons, panoramic windows in the ceiling and the sides; Which will allow you to take pictures of the entire route through the Valley. It has attention on board, air conditioning system, heating and leather seats; In addition, show live dances and a fashion show with alpaca garments, which you can buy if you wish.
Expedition: The Expedition has wagons totally covered by panoramic windows and service on board, snacks and Peruvian food.
Belmond Hiram Bingham: It is one of the most luxurious trains in the world, exclusive and with service all aboard; Has 4 cars, dining car, car bar, car kitchen and observatory. It can carry 84 passengers. The service includes: snacks, wines, musical entertainment, a tour guide for every 14 passengers, gourmet dinner, transportation and tickets to Machu Picchu.
There are 3 embarkation stations; The first two are one-way and the third is the only station to board the return train.
Poroy station (one way)
Ollantaytambo Station (one way)
Aguas Calientes Station / Machu Picchu (return)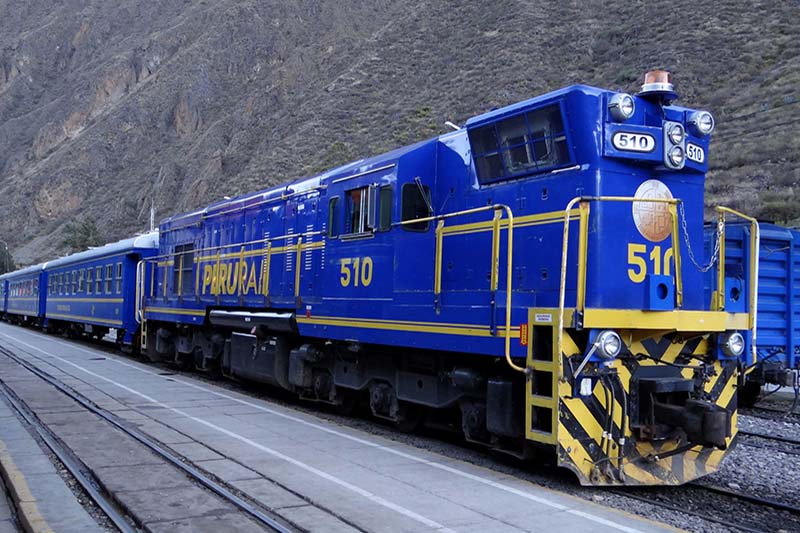 Peru Rail Train Service
– Inca Rail
Inca Rail is a Peruvian company that offers transportation services by train from Ollantaytambo to Machu Picchu. It has a fleet of nine auto-wagons; 6 of them in Executive Service, with capacity for 42 people; 1 in First Class, with capacity for 30 passengers; And the Presidential Service aboard the "Princess Inca" with capacity of 8 passengers, with all-inclusive service.
The Machu Picchu train

This service has 6 auto-wagons of modern design; Inside, the cars have been coated and worked by Peruvian technicians, has comfortable seats, folding tables and panoramic windows. Set against Latin American music, it has onboard service and a selection of drinks made with Andean fruits and herbs.

The Inca train

It has 3 classes of service:

Executive class: There are 6 car wagons with capacity for 42 people, with wide panoramic windows, set with Latin American music, service on board, with selection of hot and cold drinks, as well as selling handicraft products on board.
First Class: It is the train with more space on board, has capacity for 30 passengers, has ambient music, natural flowers and tables coated. You will be served a welcome cocktail, lunch and / or gourmet dinner. Serves only in high season (April to October) and special dates.
Presidential Service: With capacity for 8 passengers, it offers a car coated in wood and a decoration with woven tapestries made by artisans from Cusco. The car known as the Inca Princess is of the presidential class; Is a wagon with many details in its decoration, food on board, free bar. This train operates on request only.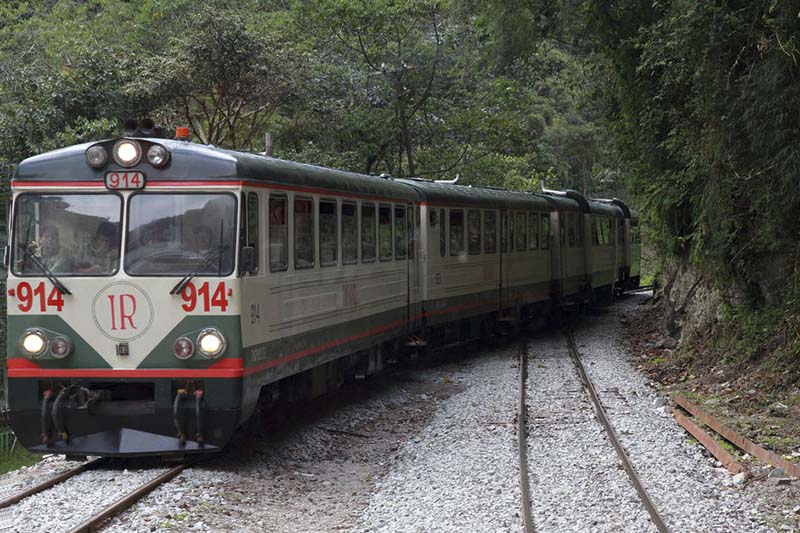 Servicio de tren de Inca Rail
Conditions for traveling in the Train to Machu Picchu
You should follow the following directions to board the train to Machu Picchu without complications:
When boarding the train, you must show your travel ticket and your identity document or passport. In the case of minors, they must present their ID card, alien's card or passport.
The railway company will check your ticket before and during the trip. Avoid setbacks, carrying the tickets along with your personal documents and those of your family.
If you can not prove that you are the holder of the ticket with which you intend to travel, you will be prevented from boarding the train, with no option for claims.
They will not let you board the train if your ticket data does not match your passport or other identity document.
They will not let you board the train, if the people in charge see that your state of health is delicate or inadequate to make a trip like this; As well as women in a state of gestation greater than or equal to seven months.
They will prevent you from boarding the train if you are in obvious drunkenness, or under the influence of other substances that alter reason.
Young children must be accompanied by their parents or legal guardians.
If you want more information about Machu Picchu tickets, train tickets or any other questions about the trip to Machu Picchu, contact us at info@boletomachupicchu.com.
By Ticket Machu Picchu – Last Update, 24-04-2017