Security in the Inca City of Machu Picchu
Machu Picchu is a city that receives many visitors from all over the world, not just to visit the shrine, but also to walk the Inca Trail, one of the most famous treks in South America.
Machu Picchu for being a tourist city and as most tourist cities, attracting undesirable people, not only national but also foreigners, here we offer a report of how works the security in Machu Picchu, which place go in case of emergency?, where is the commissariat?, location of checkpoints, who watch for your safety?, how do they do that?.
It must be noted that despite all the security that exists in Machu Picchu, it does not hurt, be careful with the people with which you interact, especially if you shop or make a payment, remember, not all people are reliable anywhere in the world. Carry your documents and important papers in a small bag; if you are on the street, do not lose sight of your luggage. Avoid unfamiliar areas, whether it is in Machu Picchu Pueblo, late at night.
Preferential Tourist Corridor Cusco – Machu Picchu
The safety of tourists in Machu Picchu is done in the security corridor, which passes through Chinchero, Urubamba and Ollantaytambo, it has 230 kilometers in length. Through the new control center and communications Tourism Police.
Machu Picchu offers security 24 hours a day; from the moment it moves from the Alejandro Velasco Astete International Airport in Cusco to the Inca City of Machu Picchu; it is done through a digital communication system that allows to the Tourism Police control all motorized units and officers patrolling on foot, these in turn monitored, by high security cameras strategically placed.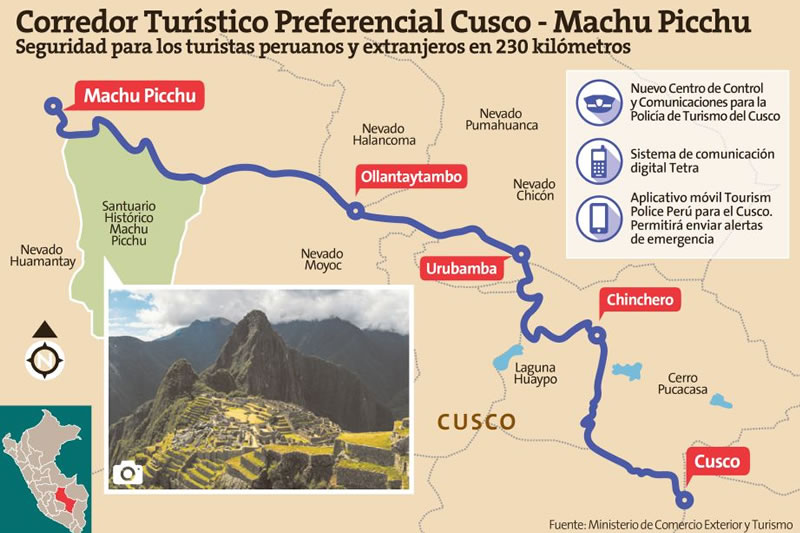 Tourist Corridor Security, Cusco – Machu Picchu
There are about 200 uniformed officers to whom you can turn if an emergency occurs, you are in areas such as Machu Picchu Pueblo (access to the Inca city of Machu Picchu) and the entry to the Sanctuary. And others in civilian clothes, who act doing intelligence work, assuming contingency measures and prevention, since the issue of public safety and protection of tourism is serviced as a priority in the Cusco region. It also has park rangers and municipal workers that ensure their safety.
Being the safety of tourists a priority of the Peruvian government and of Ticket Machu Picchu, we inform that you as a tourist features with "Tourism Police Peru" free application connected to the Central of the Control Preferential Tourist Corridor, and can be used by national and foreign tourists to report your emergency; this automatically sends your location, and generates immediate response and effective units that are near you. The Tourism Police Peru application can be used in smartphones and tablets with Android operating system.
Where is the commissariat?
Machu Picchu Pueblo has a commissariat, to attend to your emergency; his office is located at Avenida Hermanos Ayar, Aguas Calientes, the phone number +51-84-211178.
Prohibitions in Machu Picchu
Machu Picchu is Peru's main tourist destination and home to thousands of daily visitors. At present security cameras are implemented, which are the eyes of Machu Picchu in high definition, for greater control over the Sacred City of the Incas; to strengthen the safety and care of the Cultural Heritage of the Humanity.
Remember, it is forbidden to undress in Machu Picchu. In recent years, they are finding cases of tourists who are caught and even arrested, posing completely naked in the City of Machu Picchu. Attitudes amid an outburst of exhibitionism; have made that the authorities in Cusco intensify surveillance in the National Archaeological Park of Machu Picchu.
It has redoubled efforts for permanent surveillance and monitoring heritage site, so that, we remind you that any act of this nature entail the intervention of security personnel of the Sanctuary, and will be unable to commit this and other types of behavior which they go against the Regulation of Machu Picchu.
The Ministry of Culture and the Peruvian laws reject any disrespectful act that could be committed by visitors in the spaces of the Historic Sanctuary of Machu Picchu or any public space linked to cultural heritage. In case that could be surprised, it will lift a record and be retained the evidence that contains any tests of that act. It is not considered a crime; but if a violation because it is against good manners.
By Ticket Machu Picchu – Last updated, March 27, 2019