What to take if you travel to Machu Picchu by train?
The trip to Machu Picchu by train is an unforgettable experience. You will feel what it is like to travel on a high-level train, while touring the Sacred Valley of the Incas. During the trip it is important to carry the passport and the printed ticket. In addition there are other objects that will be very useful and will make you enjoy the trip even more.
---
---
What should you take on your train trip to Machu Picchu?
Original passport
At the entrance door to Machu Picchu you will be asked for your original passport and your printed ticket. If you do not have it, you will not be allowed to enter the Inca city. In addition, you must present that document (or your identity document) before boarding the train.
Rain poncho
Hat, sunglasses and sunscreen
If you decide to visit Machu Picchu during the dry season (from April to November); You will have a huge sun accompanying you on your tour. High radiation can cause discomfort so it should be protected with a hat, glasses and sunscreen. Otherwise, it can end with painful sunburn.
Medication and hand gel
Aguas Calientes is a small town so it is difficult to find certain medications. In addition, it is recommended to carry hand gel before lunch. It is recommended to buy these products in the city of Cusco.
Water
It is important to stay hydrated during your trip. So you can fight the symptoms of altitude sickness. Before the train trip, you can get water bottles in Ollantaytambo. It is best to bring a reusable water bottle. Surely during your tour of the Inca city you will feel thirsty.
Binoculars
Bring binoculars to better appreciate the wonderful landscapes in Machu Picchu. In addition, in the Inca city you can see birds, flowers, mountains, llamas and even spectacled bears. Binoculars are allowed inside the archeological site.
Book
A book can be a good company during the train journey. During the return trip, when landscapes cannot be clearly seen, it is a good idea to carry a good book. If you travel during the day it is preferable to take photos of the wonderful landscape.
Swimwear
If you travel through the mountains of Machu Picchu, we assure you that in the afternoon you will want to relax in the 'hot springs' of the town of Aguas Calientes. The thermal baths are only 15 minutes away from the town if you are walking. At the door they rent swimsuits. However, the ideal is to bring your own.
A small backpack
According to the new regulations in Machu Picchu, you cannot enter with bags or backpacks that exceed 5 kilos. Therefore, it is best to carry a small backpack with what is strictly necessary: hat, snacks, water, camera, extra money and documents.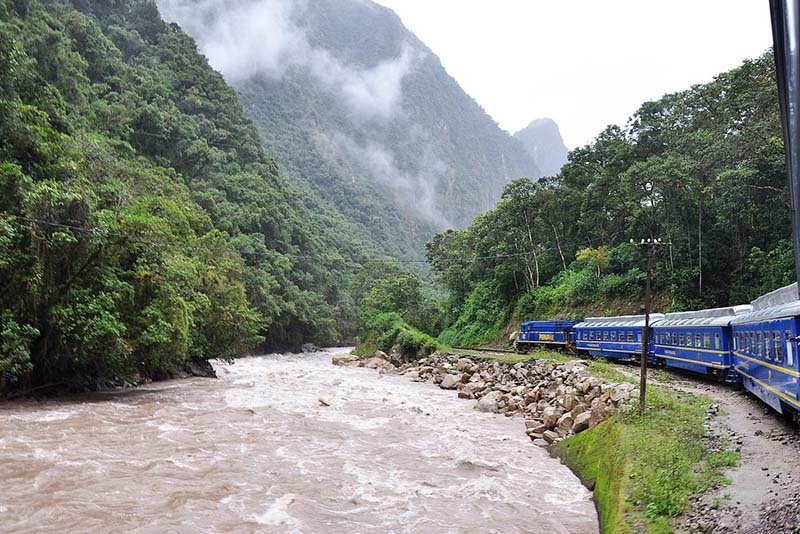 These are some of the things you will have to carry if you travel to Machu Picchu by train
---
Questions and answers about trains in Machu Picchu
What do I do if I forget my passport before the trip?
If you do not have a passport, you can still show the identity document, immigration card, birth certificate, university card; or some other document that certifies the authenticity of the tourist. Remember that if you do not submit any documents, you may be restricted from entering the train.
What do I do if I forget the train ticket?
In case of loss, the tourist may reprint his train ticket at the train station or on the company's website (Peru Rail or Inca Rail). The procedure has no cost but must be done 60 minutes before the train leaves.
Can I carry luggage on the train?
You can carry hand luggage with you during the train trip (weight not exceeding 5 kilos or 11 pounds). In case of carrying a luggage or suitcase exceeding that weight, it must be transferred to the train hold.
Do children travel for free on the train?
Babies from 0 to 2 years travel free on the train. Children from 3 to 11 years have a special discount of 50% of the value of the adult ticket.
Can I take a baby car to the train trip?
Baby cars are not recommended during train travel since they are not allowed inside Machu Picchu. If you want to take a baby car anyway, it must be located in the train hold.
Can I travel in a wheelchair on the train?
Yes. The assistance personnel of the train companies help the visitor with reduced mobility to embark and get off the train. Once in Machu Picchu, the tour staff you hired or the archaeological site staff; It will give you the necessary help.
Is it necessary to take food on the train journey?
Tourists can carry snacks or drinks in their bags or backpacks and taste them during the train trip. However, remember that there is a sales service on board trains. In addition, there are some services that include drinks, snacks and even gourmet lunch.
Advice from people who have been there
Machu Picchu

By: María Greta A.
"Wonderful"
"It's not only Machu Picchu but also the way you get there, everything is wonderful. I recommend bringing a good camera, with plenty of space available, you will really need it. "
By Ticket Machu Picchu – Last updated, December 17, 2019