How to Buy Machu Picchu Tickets for Students in 2023
If you are a student, you can now buy discount Machu Picchu tickets using your university id card (University ID Card). Until some time ago this could be done only with the ISIC Card, but many people tried to obtain the discount by falsifying these cards, generating setbacks and various inconveniences when entering Machu Picchu. But this has made things easier, you can now reserve the tickets for Machu Picchu with discount for students, with your university id card.
---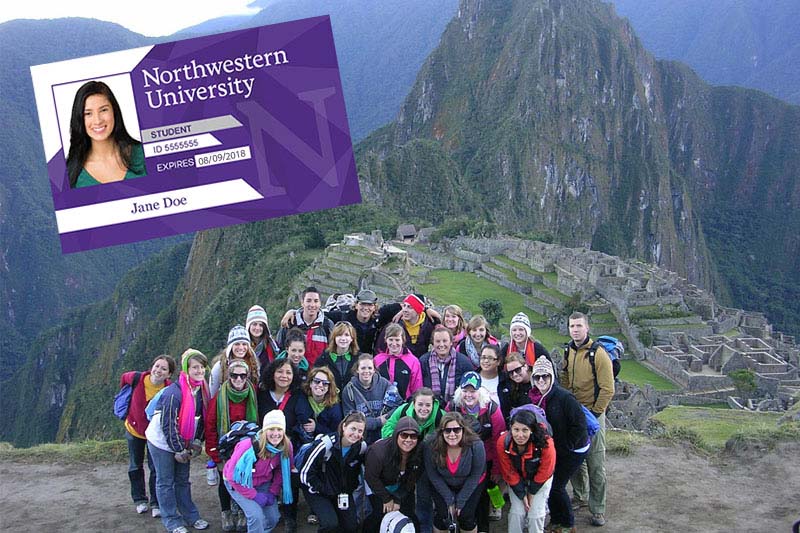 Students visiting the Inca city of Machu Picchu
Important: The STUDENT ID CARD (University ID Card) is not valid document to obtain the student discount on the price of the Machu Picchu Tickets. You should send a digital copy or picture of the card. No study certificates or any other document other than the valid university card will be accepted. Please note that to proceed with the reservation, the validity date of your card must be kept until at least the day of your visit to Machu Picchu.
What will you need to reserve Machu Picchu student tickets?
Before telling you what you will need to book tickets, "remember that only valid student cards are for undergraduate students."
Foreign students and CAN (Andean Community of Nations)
You will need to send us the scanned copy of your university id card along with the copy of your passport. The passport will serve to reserve the ticket Machu Picchu and the university id card to obtain the discount for students in the price. And to comply with the regulations of the National Immigration Superintendence, after entering Peru, we will need you to send us the copy of the Andean Immigration Card (TAM)
.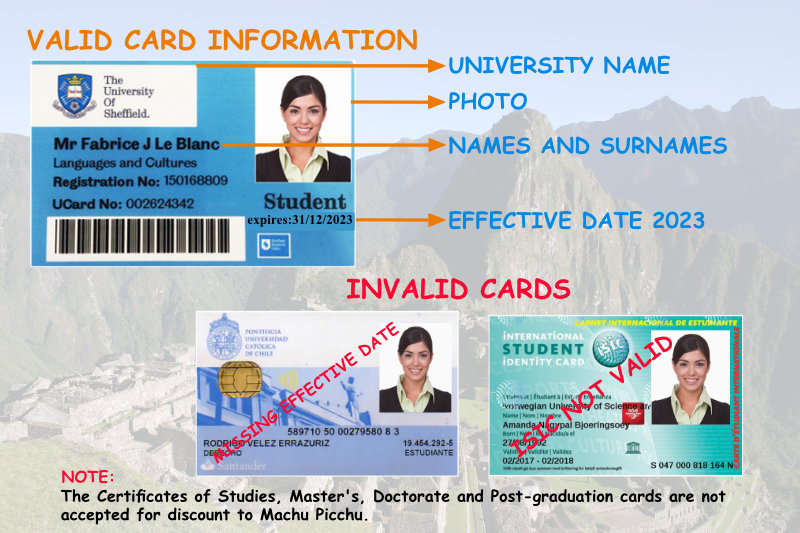 University ID Card valid to reserve the ticket Machu Picchu
National students
Students from universities and institutes in Peru can obtain the student discount on their Machu Picchu tickets with the copy of their current university id card, along with their identity document.
Dare to tour the mountain Huayna Picchu
The only way to access the Machu Picchu ticket that includes the Huayna Picchu mountain is to reserve one of the 400 available tickets in advance.

We do not recommend waiting to be in Cusco to buy the tickets Machu Picchu. This will only make you have to choose between the remaining Machu Picchu tickets.

Another important point is that, you must know the date you will enter Machu Picchu to reserve the train tickets, also in advance; otherwise you will have to choose between the most expensive train services.

Check the list of objects that can not be taken to Machu Picchu; he knew that he can not enter with a selfie stick, or if he comes dressed in some typical costume of his country.

Remember to check the data and the date of entry before making the payment, after acquiring your tickets Machu Picchu, there are no refunds of any kind.
Advice from people who have been there
Machu Picchu

By: Shirley A
"You need to book the Wayna much earlier"
"When we were told of Machu Picchu we were told that the best experience we could have in this national park was to climb the Huayna Picchu mountain, however when we tried to book, 2 months before, the tickets had already been exhausted. If you want to be on top of this mountain, I recommend you book 4 months before. Otherwise you can do as we do, and settle for the mountain Machu Picchu. "
{"iden":"AJuQzo","titulo":"Boton Reservar ver Disponibilidad","slug":"boton-reservar-ver-disponibilidad","contenido":"\u003Cp\u003E \u003C\/p\u003E\n\u003Ch2 class=\u0022titulo-wrapper-bttn\u0022\u003EBooking your Machu Picchu Ticket has never been so easy\u003C\/h2\u003E\n\u003Cp class=\u0022subtitulo-wrapper-bttn\u0022\u003ECheck availability in real time - Book quickly and easily - Pay safely - Receive your ticket in 24 hours\u003C\/p\u003E\n\u003Cdiv class=\u0022wrapper-bttn\u0022\u003E\n\t\u003Ca href=\u0022\/ticket-machu-picchu-book-now\/\u0022 class=\u0022bttn bttn-reserva\u0022 title=\u0022Ticket Machu Picchu Book Now\u0022 role=\u0022button\u0022\u003E\n\t\t\u003Cspan\u003EBook Now!\u003C\/span\u003E\n\t\u003C\/a\u003E\n\t\u003Ca href=\u0022\/machu-picchu-ticket-availability-online\/\u0022 class=\u0022bttn bttn-dispo\u0022 title=\u0022Availability Ticket Machu Picchu\u0022 role=\u0022button\u0022\u003E\n\t\t\u003Cspan\u003EAvailability\u003C\/span\u003E\n\t\u003C\/a\u003E\n\u003C\/div\u003E\n\u003Cp\u003E \u003C\/p\u003E","ajax":"1"}

By Ticket Machu Picchu – Last updated, June 2, 2023