The tour of the Sacred Valley of the Incas is an essential part of its exploration for what was the territory of the Incas in Peru. In fact, while touring the valley, you will enjoy breathtaking views and find many archaeological sites; Although it is not clearly a touristic tour, you can not miss the visit to the fascinating and ancient salt mines, known as the Salineras of Maras; Are thousands of small pools dug in the side of a mountain; These are filled with salt water that evaporates leaving the salt behind. In the distance and depending on the time of day, the thousands of white terraces of the Salinas de Maras, show incredible shades that have been captured by the best lenses of photograph lovers around the world.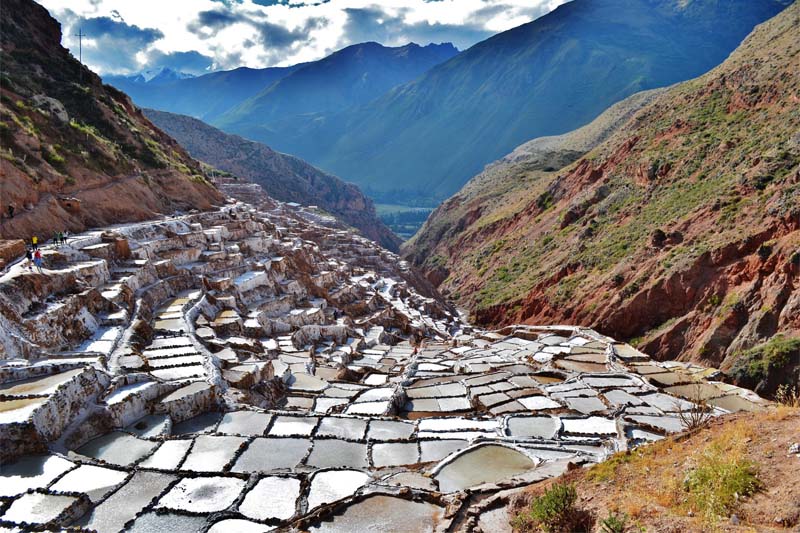 Salineras of Maras
Where are the Salineras of Maras?
The thousands of shallow pools filled with salt water are excavated on the slope of the Qaqawiñay Mountain at 3,380 m. Of height, to 46 km of the City of Cusco, in the Valley of the Urubamba. The 3,000 pools are fed by a hypersaline underground spring that originated 110 million years ago during the formation of the mountains of the Andes (Orogenia Andina).
The Salineras (salt mines) of Maras
In the Salinas de Maras you can buy "natural salt of pink color"; It gets its beautiful color from the natural elements of spring water, including magnesium, calcium, potassium and silicon; And in case you did not know, there are only 4 places in the world from where you can extract pink salt and Maras is one of them. Another interesting thing about the Maras Salineras is that you can pick up your own handful of salt or buy a bag, jar or can in the Maras gift shop.
How do Maras Salineras work?
After the thousands of shallow pools are filled with salt water (hot) from the subsoil, the mangrove is blocked for a few days; The intense sun causes the water to evaporate, leaving crystals of pure salt that is then "harvested" with a piece of wood with which is scraped salt, which is placed in small baskets to remove the excess water. At the end of those days, the water passage is reopened and the process is repeated.
Do you pay to enter the salt flats of Maras?
You will be able to enter the Salinas de Maras paying S/. 7 soles (US $ 2); The site does not need any ticket like many other archaeological sites in Cusco. Please note that in Maras you will not be able to pay with your credit card, US dollars, euros or any other currency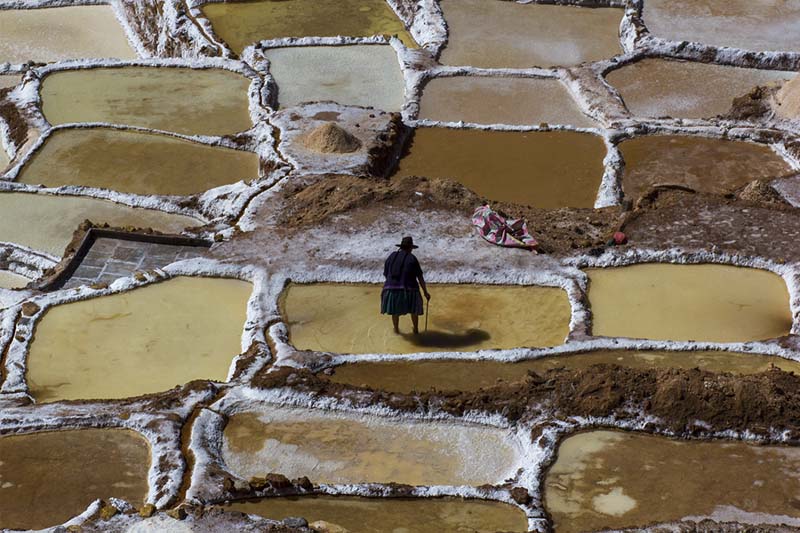 Villager working in the Salineras
Recommendations
Most people who come to Cusco to visit Machu Picchu, take some time to get to know and take some views of the Salineras of Maras; Indeed, they should all reach the colonial town of Maras, famous for its spies in the days of the Incas. The best way to get to know the Salineras of Maras is in a tour organized by the Sacred Valley of the Incas; If you want more information about this tour or about the trip and tickets to enter Machu Picchu, please contact us at info@boletomachupicchu.com
Advice from people who have been there
Salineras of Maras

By: Jenny L
"A unique place"
"The pink salt is extracted only from 4 places in the world and one is Maras, the more than 3,000 wells are worked by the families of the town. I saw large families who extracted salt from up to 10 wells at a time, they collect and sell their product, but you can also pick up your own salt."
By Ticket Machu Picchu – Last Update, 05-17-2017