Security on your trip to Cusco
Many important websites around the world paint an image of a city that possibly exists somewhere in the world, but not in Peru. Renowned websites, talk about robberies in taxis and assaults. This may be a problem in Lima, but in Cusco you will not hear about it. What's more, to be safe in Cusco, you just have to follow the basic safety rules. Cusco receives about 3 million visitors a year; and your biggest concern should be to book in advance the Ticket Machu Picchu, especially if it comes in high season. Cusco is one of the safest cities in Peru. False warnings about security in Cusco, causes some people to get a misconception.Do not be afraid to come to Cusco, it is a beautiful and tranquil place; just worry about enjoying every minute of your time here.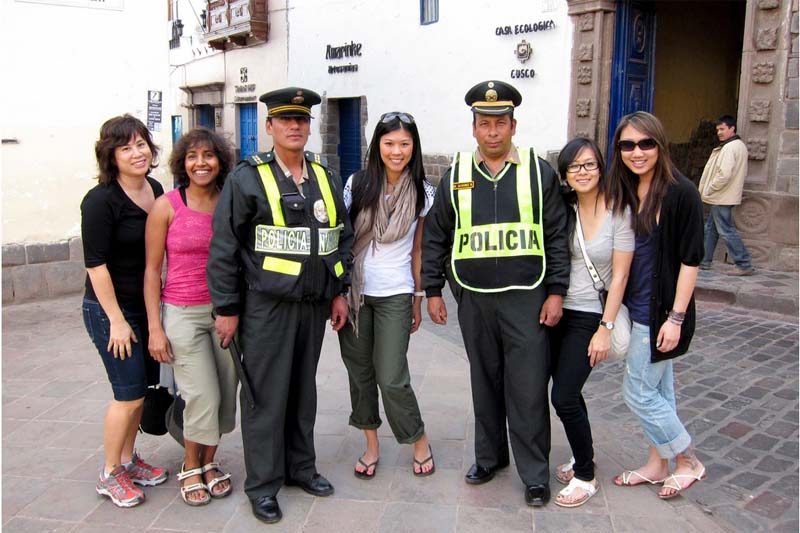 Cusco is a very safe city and friendly people with their visitors
Safety recommendations on your trip to Cusco
At present there is little or no criminal activity in Cusco. There are almost no serious incidents, much less in the "security corridors" where you will travel, through the city of Cusco or on your way through the Sacred Valley of the Incas to Machu Picchu the few events are very isolated.
Tourism Police
Tourist Police of Peru, known as DIRTUR (Directorate of Tourism and Ecology) is located in the Túpac Amaru square in the Wanchaq district of Cusco, but you can find tourist police in all places of the circuit from Cusco to Machu Picchu, but they are not only uniformed troops
Emergency Numbers
These are the free emergency numbers that you can communicate while you are in Cusco or anywhere in Peru.
Emergency Central – 105
Fire Station – 116
Medical Emergencies – 117
What precautions should you take in Cusco?
You will be safe in Cusco, but like in all the tourist cities of the world, you must take some precautions; like being aware of your belongings, or not allowing another person to buy the drinks for you, unless you clearly believe that you know them. A few drinks of Pisco Souer can take you to an amazing night of madness, most tourist bars and restaurants will call a taxi for you.
Advice from people who have been there
Cusco

By: Harry M
"Cusco is a Wonder"
"Cusco is a cordial city, people are very friendly, though not all. It also shines with its own light, it is the most important tourist city in South America, it is beautiful, and it works very well with the people who visit it, it is easy to reach all tourist places and most of them are amazing, but for Machu Picchu must book tickets in advance."
By Ticket Machu Picchu – Last Update, 09-08-2017