The Sun Temple is in the religious sector of the Hanan neighborhood, at the archaeological site of Machu Picchu. It is a semicircular construction attached to a natural cave, construction have a curvature of 10.5 m.
Plant construction is perfectly conditioned to terrain, construction is of granite and the blocks that comprise belong to the imperial Inca style (Pachacutec). You can reach the site through a trapezoidal door of jamb double. The wall semicircular, has two windows, one is oriented to the north, the other to the east.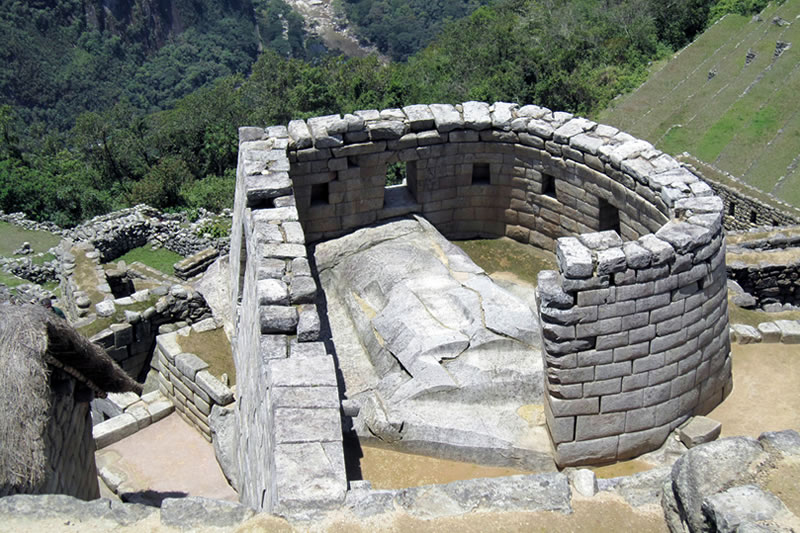 Sun Temple Machu Picchu
In the center of the temple, is an altar carved in rock, where probably performed religious ceremonies in honor of their gods Guardianship, especially the Sun God, the 2 windows allow you to see the sunrise during the summer solstice (21 December) and winter (June 24).
Its semicircular plan, you can only see in the Sun Temple of Machu Picchu, is located on a cave whose walls were covered with fine masonry with hornacinas, which could fit a mummy. So it speculated, that in this place the mummy of Pachacutec was found.
Next to the temple, there is a rectangular patio with nine niches or hornacinas and where you can see a door with security rings. In the center of the temple is a stone altar, which surely took just some religious ceremonies.
On the back wall highlights a window with small holes carved, which according to Garcilaso de la Vega, probably had gemstones, has been called to this window as "The window of the Serpent". (It should be remembered that most of the names of Machu Picchu, were taken from the arrival of Hiram Bingham and do not necessarily correspond to its original function).
On the other hand, the carved rock, which is under the Temple of the Sun, apart from the worked walls, the trapezoidal niches life size, it has a size similar to a three-step ladder that is the representation of the "Chakana", which represents the Hanan Pacha, the Kay Pacha and Urin Pacha.
With regard to the role that could have fulfilled this place was purely religious and also served as an astronomical observatory. The foregoing is based on construction time, the strategic location of windows where the sun can be seen, as we said, in solstices of June and December.
Finally, we must say that some reports point to this building as a "Military Tower", which is wrong and does not correspond to the characteristics that had the military constructions during the Inca times.
By Ticket Machu Picchu – Last Update, 10-07-2015
Booking your Machu Picchu Ticket has never been so easy
Check availability in real time - Book quickly and easily - Pay safely - Receive your ticket in 24 hours