Machu Picchu one of the seven wonders of the modern world and one of the most important destinations on the planet; Has impressive Inca architecture, with some of the most incredible constructions that exist. So, you must know "how to hire a professional and authorized guide in Machu Picchu" , do not allow an impromptu or unofficial guide to ruin your trip to Machu Picchu. Machu Picchu can delight anyone, even those who know nothing of it; However, a guided tour of Machu Picchu is the best way to get to know the Inca city.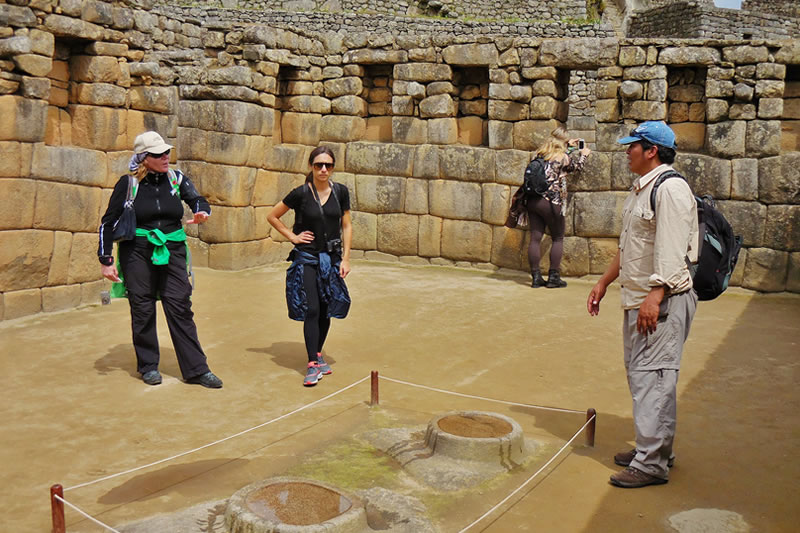 Guided in the Sector of the Mirrors – Machu Picchu
Where to hire a guide in Machu Picchu?
If you plan to travel independently and not as part of an organized tour, you have the option of hiring an official tourist guide at the entrance of Machu Picchu , where the site guides are located; They are authorized by DIRCETUR to offer their services to visitors. Remember that these are identified with your official guide credential, most of the guides of Machu Picchu work independently, there will always be one available; Unless you come in high season .
How to hire a guide in high season?
Remember that on festive dates such as the Inti Raymi (June), Peru Independence Day (July 28), Christmas (December), New Year, or any time of the high season (May to September) , The best thing to do is to book your guide in advance, it would be best to book it when you book your Machu Picchu tickets ; But it's not all that you need to book in advance to come in high season, additional hotels and tours also have to be booked in advance.
Guided service in Machu Picchu
The service of Guided in Machu Picchu has some variations with respect to the mechanics with which this service is provided, below we detail this difference.
Shared Guidance Service

The cost of shared guidance varies depending on the number of people . The number of people in the same group can vary from 2 to 15 people, the larger the group the cost of the guide will be lower per person.

Private Guidance Service

If you prefer a private service or better still want to book the guided service in advance, we are your best choice to help you find a guide according to your requirements and in the language you prefer ; You can request it through our email info@boletomachupicchu.com, for more information and prices of them.
How long is the guided tour in Machu Picchu?
Guided tours of the Inca city of Machu Picchu usually last 2 hours and 30 minutes. Guided tours are usually paid in advance. At the end of the tour, he usually gives himself a tip, expressing his gratitude, as long as the service has been to his liking.
How much does it cost to hire a guide in Machu Picchu?
This will depend on the size of the group, more people, less will be the cost that each one has to pay; Hiring a guide in Machu Picchu will cost between S / 30 and 50 soles (US $ 10 and US $ 16) ; Remember that you will not be able to enter Machu Picchu if you do not present your current Passport and printed Machu Picchu ticket.
Make sure you have a good guide in Machu Picchu
If you want to get a good guide, book your guide with us; We work with some of the best guides in Machu Picchu, insightful, capable and enthusiastic people; As we said, I do not want an untrained guide to ruin your trip to Machu Picchu.
We offer all the tourist services you require to make your trip to Cusco, the Sacred Valley and Machu Picchu. For more information visit our contact section or write to us at info@boletomachupicchu.com.
Advice from people who have been there
Machu Picchu

By: Oliver T
"Absolutely incredible"
"It is a spectacle in its purest form. Amazing location, magnificent and inexplicable buildings and absolutely amazing scenery."
By Ticket Machu Picchu – Last Update, 20-04-2017