Choquequirao is as impressive as Machu Picchu; This ancient Inca city, was an outpost and is well preserved; Is less known than Machu Picchu, is not fully explored, is virgin, and is free of large crowds. It is reached by a lesser known Inca road of 60 km (38 miles) long. Choquequirao is known as the younger sister of Machu Picchu. It is a large archaeological complex with buildings and terraces; Nevertheless, part of the city is still in the process of cleaning and restoration, since it is covered by vegetation accumulated during centuries; However, this is part of its charm; Since it makes the experience an authentic exploration.
In this Inca city, unlike the Inca city of Machu Picchu, you will not have to check the availability of entrance tickets, or book in advance (yet). In addition, it is one of the best alternatives to the saturated Inca Trail to Machu Picchu.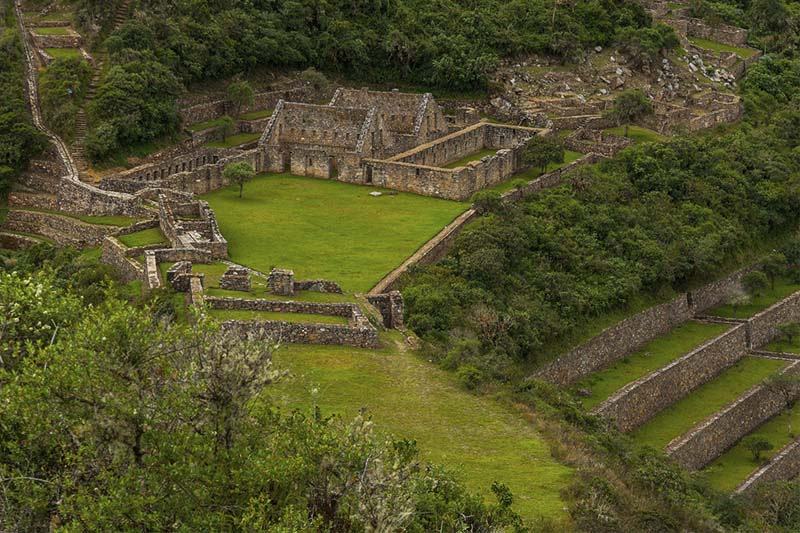 Spectacular! Choquequirao
Where is Choquequirao?
Choquequirao is located at 3,103 masl, in a privileged location; Lies on the impressive canyon of the Urubamba river, in the foothills of the snowy Salkantay, in the Apurímac valley, province of the convention, in Cusco, Peru.
What does Choquequirao mean?
Choquequirao means "cradle of gold" in Quechua; Is considered the "sister city of Machu Picchu" because it is almost the same size. Its architecture is as impressive as that of Machu Picchu, and for the moment, it has the advantage of not receiving the number of visitors received by its older sister; Allowing you to take beautiful pictures of the city without a lot of strange people in them. Very few people know Choquequirao; And even less, people who decide to take the 4-day road, to this incredible Inca city.
Architecture of Choquequirao
The most important buildings are of quartzite, cut in great detail; But the rest of the walls are made of rough stone. These walls were covered with clay, both inside and out, and painted a light orange color; Although in reality, there are few places that continue with this coating.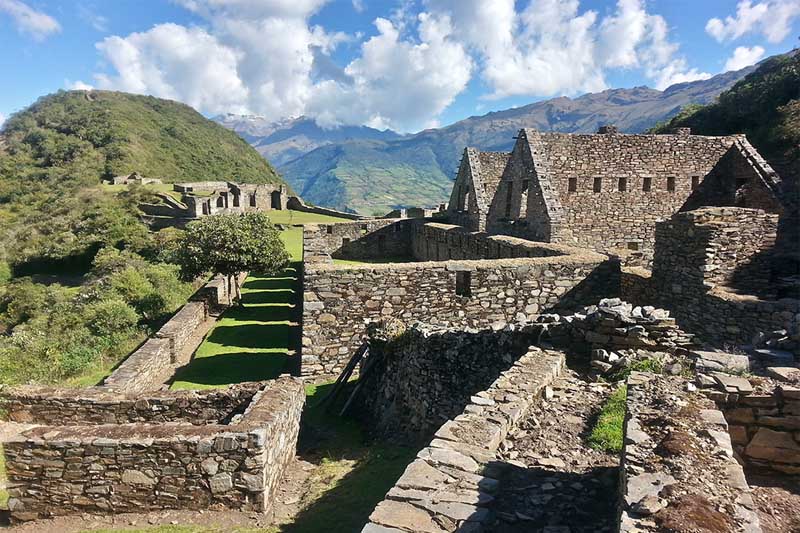 Architecture of Choquequirao
What to see in Choquequirao?
The ancient city of Choquequirao, has two main squares, temples, elite residences and other more common, fountains, canals, workshops and warehouses. The ceremonial center of the city, is a large platform that can only be reached, through a door of double jamb. The largest buildings are the colcas (warehouses).
Like other Inca cities, many of its characteristics mark solar events such as solstices and equinoxes. Among the most impressive, we have a huge staircase of 25 m. Long and 4.4 m. Wide. At dawn on the summer solstice, the light completely illuminates the staircase.
The Walk to Choquequirao
There are 2 roads that lead to Choquequirao and go through different mountains. The descent path belongs to the department of Apurímac, while the ascent belongs to the department of Cusco. The ascending path goes to the Capuliyoc viewpoint; Then down a zigzag route; To then return to ascend to 1,500 meters of unevenness; The road is challenging, but luckily, each group can travel at their own pace, there are many camping areas, so you can choose from many places to spend the night. It is estimated that a camp can be found, every 3 hours; There are bathrooms and spaces for cooking.
Most popular points from Apurimac

Balcony Capuliyoc (2900 masl and 7 km from Cachora)
Chiquisqa (14km from Cachora)
Beach Rosalina (1500 masl and 18km from Cachora)

Most popular points from Cusco

Santa Rosa
Marampata
Choquequirao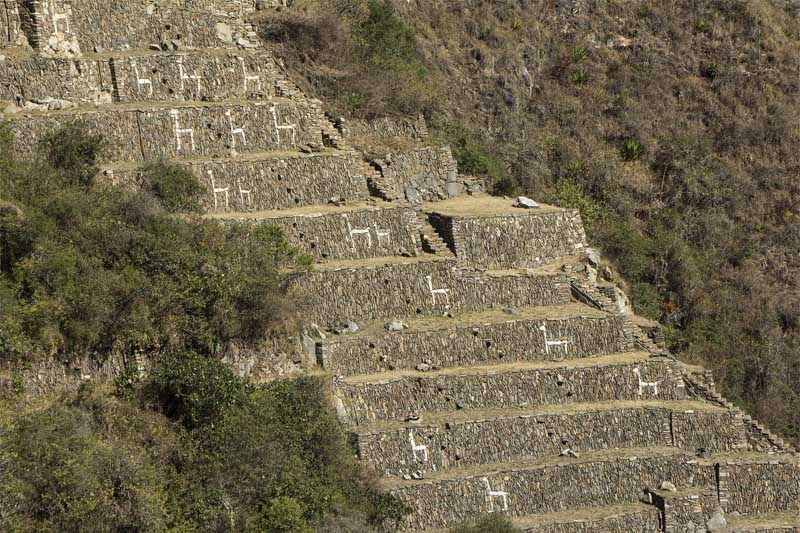 Figures of llamas in the platforms of Choquequirao
The hiking route to Choquequirao, in short, is not for the faint of heart; Travel 60 km for 4 days. However, you will be rewarded with amazing mountain landscapes, abundant Andean flora and fauna. The environment of Choquequirao is one of the richest in biodiversity; So that in addition to condors, you can also see tarucas, bears, foxes, vizcachas, pumas, skunks, hummingbirds and gallito de las rocas (national bird of Peru); Ah and do not miss the opportunity to see the amazing orchid wakanki, among other 400 species of orchids.
Advice from people who have been there
Choquequirao
By: Suzzane Doliet
"Incredible experience"
"It's all they tell you and more !! Truly an experience that leaves you breathless, another great Inca building, is wonderful! The journey is difficult and you should definitely be informed before you go; I traveled with my brother, but I'm sure we could not have done it without the help of an agency"
By Ticket Machu Picchu – Last Update, 08-17-2017
{"iden":"AJuQzo","titulo":"Boton Reservar ver Disponibilidad","slug":"boton-reservar-ver-disponibilidad","contenido":"\u003Cp\u003E \u003C\/p\u003E\n\u003Ch2 class=\u0022titulo-wrapper-bttn\u0022\u003EBooking your Machu Picchu Ticket has never been so easy\u003C\/h2\u003E\n\u003Cp class=\u0022subtitulo-wrapper-bttn\u0022\u003ECheck availability in real time - Book quickly and easily - Pay safely - Receive your ticket in 24 hours\u003C\/p\u003E\n\u003Cdiv class=\u0022wrapper-bttn\u0022\u003E\n\t\u003Ca href=\u0022\/ticket-machu-picchu-book-now\/\u0022 class=\u0022bttn bttn-reserva\u0022 title=\u0022Ticket Machu Picchu Book Now\u0022 role=\u0022button\u0022\u003E\n\t\t\u003Cspan\u003EBook Now!\u003C\/span\u003E\n\t\u003C\/a\u003E\n\t\u003Ca href=\u0022\/machu-picchu-ticket-availability-online\/\u0022 class=\u0022bttn bttn-dispo\u0022 title=\u0022Availability Ticket Machu Picchu\u0022 role=\u0022button\u0022\u003E\n\t\t\u003Cspan\u003EAvailability\u003C\/span\u003E\n\t\u003C\/a\u003E\n\u003C\/div\u003E\n\u003Cp\u003E \u003C\/p\u003E","ajax":"1"}