How to get to Machu Picchu without the Inca Trail?
You may have seen the Wonder of Machu Picchu hundreds of times, among the millions of images circulating on the internet, or through Nat Geo; but when you are inside the Inca city and feel the energy of Machu Picchu not only in your imagination but throughout your body, it will not be the height that will leave you breathless. There are hundreds of guides on how to get to Machu Picchu? But what better than to choose one, made by people who have helped thousands of people to reach Machu Picchu.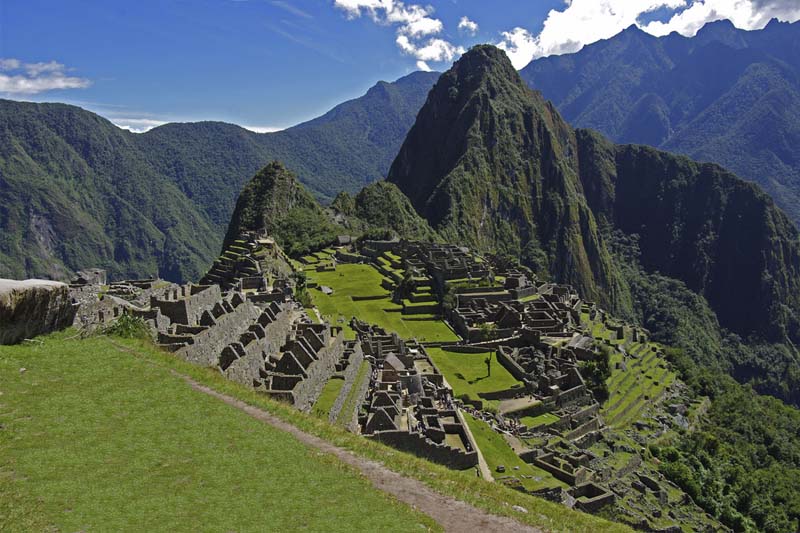 Getting to Machu Picchu is fascinating
How to get to Machu Picchu?
One of the most astounding features of Machu Picchu is the incredible mountain environment where it is built; precisely between the mountains Machu Picchu and Huayna Picchu, in a place apparently inaccessible. During the time of the Incas, the only way to reach Machu Picchu was by the Inca Trail; but now, if you do not want to walk for 4 days to enter the Inca city of Machu Picchu. You can choose to arrive at Machu Picchu, by one of the most amazing short train routes that exist. Your train will cross the beautiful Sacred Valley of the Incas along the banks of the Urubamba River.
Very important
You will not be able to get to Machu Picchu if you do not book the Machu Picchu Tickets in advance; so remember, you can book tickets Machu Picchu up to 4 weeks in advance; this will give you the time to book train tickets hotels and other experiences in Cusco; however the coming in high season, makes the tickets have to be reserved with 3 months of anticipation; except the ticket that includes the mountain Huayna Picchu; this ticket must be booked at least 4 months before.
Arriving in Peru

Several airlines offer direct flights from the USA. to Lima (same time use as New York). You can take your flight from JFK airport at midnight, you will arrive in Lima at 6:45 am. If you are not very tired you can take a flight to Cusco immediately, it will take you only an hour. However, if you have a free time, remember that Peru is the number one culinary destination in the world, and Lima is the best place to enjoy food on your trip to Machu Picchu.

Public transportation in Lima is difficult, you can take a taxi to Jorge Chavez International Airport, remember to agree the rate before boarding it; or preferably, you can ask your hotel to order one for you. A taxi in Lima can cost between S/. 20 and S/. 50 (US $ 8 and US $ 15), although this will depend on where you are.

Airfare from Lima to Cusco can cost anywhere from US $ 100 to US $ 250, depending on the time and company in which you travel. On the other hand, buses from Lima to Cusco may be cheaper, but the journey time is really long (20 hours) .

Arriving in Cusco

Taking a flight instead of a bus from Lima to Cusco, saves you valuable time in Peru (19 hours). Flights to Cusco leave from 5 am, there are many flights and several companies. Once in Cusco, regardless of sex, age or physical condition, you can become ill from altitude sickness; so take it easy. Do not make any physical effort, do not eat heavy meals, avoid alcoholic beverages (at least this first night), and drink a hot drink with coca leaves(mate de coca).

Many people choose to go directly from Cusco airport to the train station in Ollantaytambo, bound for Aguas Calientes. If you are going to do this, make sure you have enough time to get to the train station. The Ollantaytambo station is an hour and a half from the city of Cusco.

Getting to Aguas Calientes (Machu Picchu village)

If you did not know, the first step to Machu Picchu is to book "Machu Picchu tickets" and train tickets, then you can book airline tickets, hotels, guides and other tours; exactly in that order. PeruRail and Inca Rail, are the train companies that make the route to Aguas Calientes (Machu Picchu village), both companies have multiple services at different times per day, whether you want to arrive very early to ascend to Huayna Picchu, or a day before, to relax in the hot springs of the town of Aguas Calientes; if you are going to sleep in Aguas Calientes, we recommend you choose the hotels farthest from the train station, this will ensure you "sleep"; especially if the next day you will visit the Inca city of Machu Picchu.

Most of the time the trains to Machu Picchu leave from the station of Ollantaytambo; you can get to Ollantaytambo by taking a bus or a mini-van, from the Pavitos Street in Cusco. For more information about how to get to Ollantaytambo, click here.

It can be especially difficult to book train tickets in high season (May – September); no matter when you plan to arrive in Machu Picchu, they must be reserved in advance. For the purchase of the train tickets you will be asked to provide your identification papers and credit cards.

Getting to Machu Picchu

After your train arrives to Aguas Calientes (depending on your date of entry to Machu Picchu), you can choose to run to Machu Picchu, or spend the night in Aguas Calientes, in this town you will find many things to do . If you plan to spend the night in Aguas Calientes, we recommend you book your hotel in advance, especially if it comes between the months of May and September (High season). In Aguas Calientes you will find, from hostels for backpackers to S/. 50 (US $ 15), to hotels 5 stars; such as the Inkaterra, where you can pay around US $ 1,000 per night; other options are Casa del Sol or Casa Andina, where you can find rooms from US $ 300.

The buses that will take you from Aguas Calientes to Machu Picchu , leave a small station, next to the train station, just before the "ruins bridge"; in front of it you will find the box office. Bus tickets can not be reserved in advance, or via the internet; so you can only purchase them in person and with your passport. The bus ticket from Aguas Calientes to Machu Picchu costs US $ 24 round trip: but if you decide to walk up, you can buy one way or only return, you decide.

At the entrance to Machu Picchu

Once at the entrance, you will be asked for your printed Machu Picchu ticket, along with your original and current passport, if you do not have your documents, you will not be allowed to enter the Inca City of Machu Picchu. At the entrance you will find guides in many languages, be sure to arrange the price before you get guided in Machu Picchu. Joining a guiding group will cost you around $ 30.

Back home

When returning home the process is reversed. Just remember that you must coordinate the train schedules very well, so that you can arrive in time to Cusco and take your flight back to Lima and then home.
In summary
Decide when to go to Machu Picchu and book your Machu Picchu Tickets and train tickets.
Book flights to Lima and then to Cusco
If you book your hotel in advance, you will have the hotel taxis..
Make sure you have your Passport on hand at all times during the trip..
Almost all trains and airplanes have strict baggage restrictions. Carry only the absolutely necessary.
Advice from people who have been there
Machu Picchu

By: Adriana D
"Wonderful"
"Its beauty and history are breathtaking, it is the most beautiful place I have seen in a long time. Simply wonderful."
By Ticket Machu Picchu – Last updated, March 27, 2019