Ticket Machu Picchu Recommendations
The visit to Machu Picchu, without a doubt, should be one of the best experiences of your life. It is for this reason that you should consider some useful tips that will improve the quality of your visit. Here are the main questions during the trip to the Wonder of the World. And, of course, the recommendations.
---
---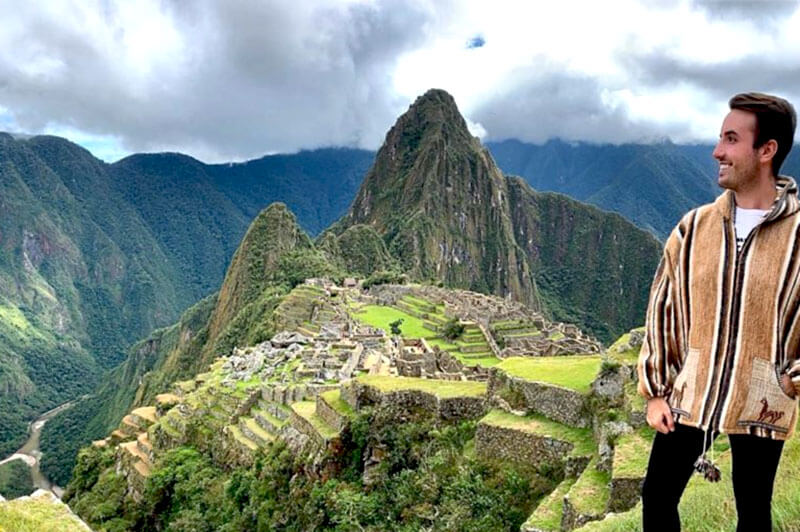 Tourist in Machu Picchu
---
1) What basic recommendations do I need to go to Machu Picchu?
The first thing to do is buy your ticket to Machu Picchu and your train tickets in advance. Especially if the visit is made in high season (May – September).
Do not forget to carry your identity document in your luggage, either; passport, university student card or ID card.
To board the train you must be at the station 30 minutes before the departure time, and present your ticket and identification document. Otherwise, you can not board the train.
It is important to have cash in soles (currency of Peru) and dollars, in small denominations, because in most places in Aguas Calientes they do not accept cards. However, you will find plenty of ATMs in the city of Cusco, Ollantaytambo and Aguas Calientes.
The visit time to Machu Picchu most frequented by tourists is between 10:00 – 14:00 hrs. Therefore, it is recommended to go up to the Inca City early in the morning or in the afternoon so that you can enjoy your journey with tranquility.
If you are an American or belong to the European Community, you will not need a visa, for stays of less than 90 days. If you come from countries that make up the Andean Community (CAN), you can enter only by presenting your identity document.
---
2) How to get to Machu Picchu?
To get to Machu Picchu you have to follow the following routes.
| | | |
| --- | --- | --- |
| Place of origin | Destination | Travel time |
| 1- From any country | To Lima (Peru) | According to country of origin |
| 2 – From Lima | To Cusco | 1 hour and 20 minutes (plane) |
| 3 – From Cusco | To Ollantaytambo | 1 hour and 30 minutes (bus) |
| 4 – From Ollantaytambo | To Aguas Calientes | 2 hours (train) |
| 5 – Aguas Calientes | To Machu Picchu | 30 minutes (bus) |
Book flights and train tickets in advance to get the lowest prices.
There is no direct flight from any country in the world to the city of Cusco. Plan the flight that connects Lima with Cusco.
There are some train services that connect Cusco with Aguas Calientes directly. These services are not numerous. Try to reserve them in advance.
From Aguas Calientes to Machu Picchu you can get on foot or by bus. The journey on foot takes 2 hours on average to climb.
---
3) When is the best time to visit Machu Picchu?
Machu Picchu has 2 seasons: the dry season and the rainy season. The best time to visit the Wonder of the World is during the dry season.
The stations in Machu Picchu are:
The dry season: It occurs from April to October. It occurs with a temperature of 20º C during the day and 8º C at night. It is characterized by sunny days with a spring air. The change of season is not so radical, so that between the months of change of season it is likely that there will still be isolated and light rain.
The rainy season: It occurs between the months of November to March. It comes with a daytime temperature of 21 ° C and 10 ° C at night. It is characterized by the constant presence of rain, during the day and night.
---
4) How to save money on the trip to Machu Picchu?
The trip to Machu Picchu does not have to be expensive. Here are some tips to save money on the Wonder of the World:
Arrive at Machu Picchu with the route through Santa María instead of taking the train.
If you are a university student, a minor (8 to 17 years old) or a citizen of the Andean Community (Peru, Colombia, Ecuador and Bolivia); Book your entrance to Machu Picchu at a discount.
Bring water, snacks, sunscreen, cookies and other basic products to Machu Picchu. Remember that in the Wonder of the World, prices tend to increase.
If you can, I visited Machu Picchu in the low tourist season (November to March). During those months, the prices of the main services (trains, hotels, tours) are reduced.
---
5) What to do in Cusco besides going to Machu Picchu?
Machu Picchu is not the only tourist attraction in Cusco (Peru). In addition there are many other incredible places in the city of Cusco, the Sacred Valley of the Incas and the town of Aguas Calientes.
These are some of the main attractions besides Machu Picchu:
Sacsayhuaman
Coricancha.
Pisac
Ollantaytambo.
Maras and Moray.
Chinchero
The thermal baths of Aguas Calientes.
---
6) Where to sleep in Machu Picchu?
In Cusco, Urubamba Aguas Calientes and there are hotels from 1 to 5 stars. There are campsites where camping in the town of Aguas Calientes. There is also a luxury hotel located next to the Historic Sanctuary of Machu Picchu.
If you plan to visit Cusco during the high season of tourism (from April to October) it is advisable to make reservations in advance. Otherwise, you may not find availability for the accommodations of your choice.
Where to sleep in Aguas Calientes? (Machu Picchu Pueblo)
---
7) What to eat in Machu Picchu?
There is a wide variety of restaurants in Cusco and Machu Picchu. The cheapest are in the markets. There are also restaurants that fuse cuisines from around the world. Peruvian food is considered among the best in the world.
If you come to Peru, we recommend you try the following dishes:
Ceviche.
Papa a la Huancaina
Lomo Saltado
Chicken rice.
Causa Rellena.
Chiri Uchu
Pisco Sour (cocktail).
Where to eat in Aguas Calientes (Machu Picchu Pueblo)?
---
8) What to take to Machu Picchu?
The community in Machu Picchu is very important. Here we give you some recommendations of what you should bring:
If the trip is during the rainy season (November – March), you should wear warm clothes, a waterproof poncho and non-slip shoes. On the other hand, if the visit is made in the dry season (April – October) it is important to bring sunscreen, sunglasses, hat or hat with a wide brim, as well as mosquito repellent.
It is necessary to keep those stunning views of the Inca City of Machu Picchu with a good camera and / or video camera. There are so many views that you will want to take that it is necessary to carry extra batteries.
It is important to hydrate during the walk, bring water in bottle for easy transport.
---
9) What are the rules to follow in Machu Picchu?
The rules to be respected within Machu Picchu are:
The entrance to the Inca city is from 06:00 to 16:00 hrs.
The entry and consumption of alcoholic beverages is totally prohibited.
Moisturizing drinks should be transported in bottles (but not disposable).
The consumption of food within the archaeological park is not authorized.
The entry of pets is prohibited.
Throwing garbage inside the enclosure is prohibited. Outside the archaeological site there are garbage containers.
It is forbidden to smoke and much less to light fires.
Regarding luggage, only small bags and backpacks are accepted. However, if you have a lot of luggage you can leave it before entering the Archaeological Site in the cellars, the use of them implies an extra cost of 3 to 5 soles.
It is not allowed to climb the Inca walls, let alone paint or scratch them.
It is necessary to be responsible for their own, if accompanied by children take care of them that do not make mischief that can cause irreversible damage.
Within the Sanctuary of Machu Picchu you will not find hygienic services. It is recommended to visit them before entering.
The use of canes is only allowed for seniors or people with disabilities, the canes should have a rubber tip.
Respect the signage, the Sanctuary has some prohibited accesses that must be respected and only transit through the authorized areas, which are duly established and marked.
---
10) What to do with altitude sickness?
Height change has some side effects. The most common symptoms are shortness of breath, headache, rapid agitation, upset stomach, lack of appetite and lack of energy.
To reduce its effects it is recommended:
Have at least one day off in the city of Cusco so that the body has the necessary time to adapt and enjoy your trip without any hassle.
Consume coca leaves, these are sold in different presentations, such as: tea or mate de coca, caramels of coca or if you prefer to chew directly.
Avoid the consumption of very heavy food at least the first day of stay in the city of Cusco.
Another of the plants widely used by the inhabitants of the area is the muña leaf; suck it deeply or instead take an infusion, tea or mate.
---
Panoramic 360º panoramic video Machu Picchu
By Ticket Machu Picchu – Last updated, June 8, 2019